New Mercedes-AMG CLA 45 S 2020 review
Flagship four-door Mercedes-AMG CLA 45 S coupe packs a punch in a stylish package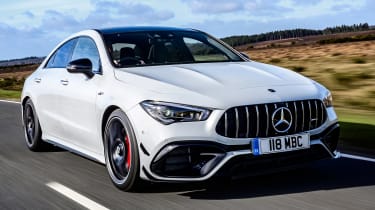 4.5 out of 5
Verdict
The latest Mercedes-AMG CLA 45 is as big a leap over its predecessor, just as the A 45 was. There's far more to it than pure speed, although there's certainly plenty of that, too. The one sticking point is price – a significant £52,045 for the S and six grand more for the Plus tested here.
Big power is easy to come by in 2020. Two decades ago, Mercedes' flagship super-saloon, the E55 AMG, needed a 5.4-litre naturally aspirated V8 to make 349bhp, and it thundered from 0-62mph in 5.4 seconds. The new Mercedes-AMG CLA 45 S Coupe, driven here in the UK for the first time, puts a full 415bhp to the ground with 'only' a turbocharged 2.0-litre four-cylinder. And thanks to an eight-speed dual-clutch automatic gearbox and four-wheel drive, it will romp from 0-62mph almost 1.5 seconds quicker than the E55.
Advertisement – Article continues below
What defined AMGs of old, though, was their styling, character and ability as much as their performance, and the same continues to be true of this latest car. Based on the A 45 hatchback, the latest CLA 45 is a more flowing shape than its predecessor, looking not unlike a shrunken CLS.
New Mercedes-AMG CLA 35 2020 review

Clean lines and a swooping roofline go some way to justifying the coupe tag, while the car seen here has the Plus trimmings, with more aggressive front and rear splitters, a larger rear spoiler and dive planes at the edges of the front bumper. The 19-inch forged cross-spoke alloy wheels are also unique to the Plus and fill the arches a treat – as well as giving you a glimpse of the enormous AMG-branded brake calipers.

The sloping roofline does make things tricky for rear-seat passengers. Getting in risks a head-bump, and if you do make it inside without injury, headroom isn't as spacious as in the regular A 45, although legroom is decent enough and the Plus's panoramic glass sunroof makes up for the smaller side windows.

More reviews for CLA 45 AMG

Car group tests

BMW M235i Gran Coupe vs Mercedes-AMG CLA 35

In-depth reviews

Mercedes CLA review
Mercedes CLA (2013-2019) review

Road tests

New Mercedes-AMG CLA 35 Shooting Brake 2020 review
New Mercedes-AMG CLA 35 2020 review
New 2019 Mercedes-AMG CLA 45 S review
New Mercedes CLA 250 AMG Line 2019 review

Used car tests

You're better off in the front seats anyway, because the CLA's dashboard design remains one of the most appealing in this class, even if it's not constructed as well as some rivals'. Various functions are hidden a few too many menus deep – turning off the intrusive lane-keeping functions seems to take a dozen clicks of the central trackpad, for example – but the displays otherwise work well, and some controls are usefully physical, such as those for the air-conditioning, and the drive mode-select dial on the steering wheel.

The best thing to do with this little switch is turn it from Comfort to Sport at the least, and ideally to Sport+. You can then use one of the other steering-wheel switches to select the manual mode for the dual-clutch box, and thus configured, the CLA 45 S is as fast, rowdy and entertaining as the V8 saloons that came before it.

There's a wallop of power, with very little turbo lag and no let-up in thrust all the way to the limiter. All-wheel drive means there's no risk of breaking traction in a straight line, and with the exhaust valves open, any run through the gears is accompanied by an escalating growl and a crackle on every gearchange. The shift paddles work swiftly, and there's mighty stopping power too.

Most importantly, the CLA is genuinely entertaining in corners. The steering is responsive and accurate, and there's plenty of front-end grip. Get hard on the power out of a tight corner and you'll feel it driving more from the rear than the front, too; in many ways it feels more like an old Mitsubishi Lancer Evo than its flat-footed predecessor.

This cornering prowess doesn't come at the expense of day-to-day usability either. In Comfort, the ride quality is firm but far from harsh, while the seats are well shaped, and undesirable noises are kept to a minimum.

| | |
| --- | --- |
| Model: | Mercedes-AMG CLA 45 S Plus |
| Price: | £58,045 |
| Engine: | 2.0-litre 4cyl turbo |
| Power/torque: | 415bhp/500Nm |
| Transmission: | Eight-speed dual clutch auto, four-wheel drive  |
| 0-62mph: | 4.0 seconds |
| Top speed: | 167mph |
| Economy: | 34mpg |
| CO2: | 189g/km |
| On sale | Now |

Source: Read Full Article