New Mercedes-AMG CLA 35 Shooting Brake 2020 review
The new Mercedes-AMG CLA 35 Shooting Brake looks great, but it's expensive and is held back by its limited practicality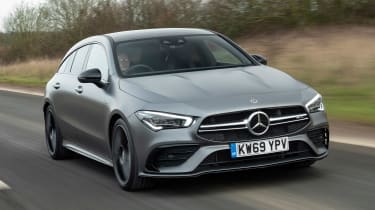 3.5 out of 5
Verdict
The Mercedes-AMG CLA 35 Shooting Brake does stand apart from anything else on offer in the small premium car market. Some will buy it just for its looks. But it suffers from a relative shortage of practicality and a bland-sounding four-cylinder engine. At this price, we'd be tempted to go for a rapid petrol BMW 5 Series Touring, which is more rewarding to drive and properly spacious.
Mercedes doesn't pull any punches when it comes to filling niches. Its CLA Shooting Brake is a baby wagon that focuses more on style than practicality, and now it has two performance editions from AMG – the hardcore CLA 45 and the more modest CLA 35 that we're testing here.
The Shooting Brake shares its basic platform with the A-Class, and the CLA 35 also has the same potent powertrain as the A 35 hatchback and saloon. That means a 2.0-litre four-cylinder turbocharged engine producing 302bhp and 400Nm of torque, a seven-speed dual-clutch automatic gearbox and four-wheel drive. This is a car that can rattle off 0-62mph in a whisker under five seconds, before continuing on to a top speed of 168mph.
Best fast family cars 2020

For now, those numbers put the CLA 35 Shooting Brake in a class of one. Ford's Focus ST Estate can't boast anywhere near that power output, and it's only front-wheel drive. And there's nothing on the horizon from either BMW or Audi that'll match this car's combination of pace and practicality.

Well, we say practicality, but the CLA Shooting Brake's load bay isn't the last word in flexibility. With the rear seats in place, the capacity is 514 litres – just 54 litres up on the CLA four-door – and with the second row folded down you'll have a meagre 971 litres. It takes a special kind of estate to not crack the 1,000-litre mark in its most practical configuration, but then this is a very style-focused offering indeed.

More reviews for CLA Shooting Brake

In-depth reviews

It's not cheap, either. Before a single option is fitted, the CLA 35 4MATIC Premium Plus will cost you just north of £44,000. That sort of money that will buy you a nicely equipped estate from the class above.

On the road, the CLA A35 is rapid but pretty anodyne. The steering is light and relatively slow, so this isn't a car that feels happy to dart towards an apex. And this is despite surprisingly tight body control that keeps the CLA's frame flat in the corners. The seven-speed dual-clutch gearbox isn't the most willing thrill-seeker, either; it can seem a little clumsy when you want to put on speed quickly.

Our Premium Plus car came with optional AMG Ride Control, an adaptive damping system that offers three levels of sportiness. There's sophistication and compliance in there – to a degree that may surprise you, in fact – but we wouldn't go beyond Comfort on anything but the smoothest UK roads.

Fast motorway cruising is probably what the CLA A35 Shooting Brake does best, although you'll find the amount of tyre roar coming from beneath you fairly noticeable.

It more than drowns out the engine, which is smooth (and happy to rev if you want it to) but pretty anonymous with it.

Inside, there's decent room for two up front, but in the rear, the hard-backed sports seats compound fairly modest amounts of leg and kneeroom. Headroom will be an issue for anyone over six-feet tall, too, thanks to that swoopy roofline.

We've few complaints about quality, though. As with other A-Class derivatives, the CLA 35's cabin is beautifully finished, with soft-touch materials in all the right places, and the fabulous twin-screen instrument panel and infotainment display at the heart of a sophisticated-looking fascia. We're glad about the touchscreen functionality, though, because the touchpad set-up between the front seats is a bit fiddly to use on the move.

Source: Read Full Article