New Lexus LC 500 Convertible 2020 review
Does the new Lexus LC 500 Convertible increase the luxury sports car's appeal?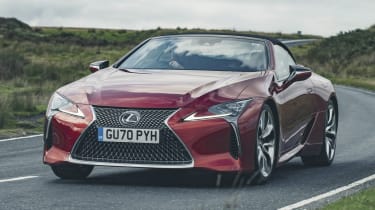 4.5 out of 5
Verdict
More than anything, the LC 500 Convertible proves that as well as rock-solid reliability and an outstanding dealer network, Lexus has finally learned how to deliver a car that can stir emotions. That achievement might well mean that in the long run, the LC Convertible has significance way beyond its sales figures.
The Lexus LC has worked wonders for the Japanese brand, its design boosting the wider image of Toyota's luxury division and raising interest in its more mainstream offerings. Now, three years after the coupé's arrival, it's time for it to gain an important new model line, in the form of the LC Convertible.
Unlike the coupé, which is available as a V8 petrol and a V6 hybrid, the convertible comes as a pure-petrol LC 500 only.
Best convertibles and cabriolets 2020

The raw specs on the V8 aren't at all bad. This 5.0-litre Atkinson-cycle motor produces 457bhp and 530Nm of torque, all of which is transmitted to the rear wheels via a 10-speed automatic transmission. That's enough for a 0-62mph time of exactly five seconds and a top speed of 167mph.

The fabric hood is neat and does nothing to detract from the LC's striking lines. Indeed, once the roof is lowered – a process that takes 15 seconds and which can be performed at speeds of up to 31mph – the look is arguably even cleaner and more sophisticated, with an imposing rear deck.

More reviews for LC

Car group tests

Lexus LC 500h vs Mercedes SL 400

In-depth reviews

Road tests

Lexus LC 500 Limited Edition 2020 review
BMW 8 Series vs Lexus LC
New Lexus LC 500 2017 review
New Lexus LC 500h 2017 review

Those attracted by Lexus's reputation for bulletproof reliability, meanwhile, will be pleased to learn that the company tested the roof mechanism through 18,000 open and closing cycles – an estimated 24 years of use – before a minor problem occurred.

The fixed-roof LC has always been half-sports car, half-GT, but with the extra weight and the ability to open up the cabin, the Convertible gives up all pretence of being anything other than a long-distance tourer.

If that sounds negative, it's not meant to. The LC 500 rides well and steers faithfully. But regardless of whether you've opened the lid or not, it's not massively enthusiastic about sudden direction changes. And the 10-speed automatic transmission can occasionally be found juggling ratios.

The engine is a gloriously smooth and, when you want it to be, extremely sonorous motor. Indeed, if anything, Lexus has done rather too good a job of soundproofing the fabric roof, because the engine sounds a little too restrained from the closed cabin.

That changes when you open the interior to the elements. Suddenly you're aware of an enjoyable growl at low revs, of pops and bangs in the car's sportier modes and, beyond around 4,000rpm, a proper roar. There's a bit of wind rush in the cabin at speed, but not enough to stop you squeezing the throttle, if only to hear the exhaust note.

The LC's interior is trimmed in a pleasing mix of fine-grade leather and solid-feeling metal switches. It's not an ergonomic masterpiece – the presence of the clunky, frustrating touchpad infotainment control sees to that – but it does feel special.

This is a 2+2, though, rather than a proper four-seat convertible. And while the Convertible doesn't take much of a hit on boot space compared with the coupé, the capacity is still nothing special, at just 149 litres.

| | |
| --- | --- |
| Model: | Lexus LC 500 Convertible Sport Plus Pack |
| Price: | £96,625 |
| Engine: | 5.0-litre V8 petrol |
| Power/torque: | 457bhp/530Nm |
| Transmission: | 10-speed automatic, rear-wheel drive |
| 0-62mph: | 5.0 seconds |
| Top speed: | 167mph |
| Economy: | 24.1mpg |
| CO2: | 275g/km |
| On sale | Now |

Source: Read Full Article