New Land Rover Defender P400e PHEV 2021 review
The new plug-in hybrid Land Rover Defender P400e boasts 398bhp and up to 27 miles of pure electric driving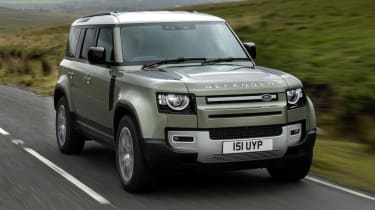 4.5 out of 5
Buy used for less at Buyacar
Verdict
Adding plug-in hybrid power to the new Land Rover Defender's winning recipe will only enhance the end product for many given this is the most economical version of the brand's excellent rugged SUV; there's little trade-off in the way this PHEV drives. It is expensive though, offered in X-Dynamic trim level upwards and out-pricing six-cylinder versions of the Defender spec-for-spec. Private buyers will need to keep on top of their recharging to maximise efficiency, recoup running costs and really justify the extra outlay, but it's still a brilliant electrified offering from Land Rover. 
Land Rover has made a lot of noise about building a family around the new Defender, with the launch of the short-wheelbase 90 version and Hard Top commercial variants of its reborn icon joining the 110 so far. And why wouldn't it? Interest seems to be flooding in from Land Rover buyers old and new, and with more models will come more sales – the 100,000th of which is about to be surpassed. 
Electrification has only played a small role in the Defender line-up thus far though, with mild-hybrid power in some six-cylinder versions. This is the model to change that though. It's badged P400e, and it's the first plug-in hybrid version of the brand's tough off-roader.
Best hybrid SUVs 2021

Available only in five-door, longer wheelbase 110 guise, power is sourced from other P400e badged plug-in hybrid models from across the Jaguar Land Rover spectrum. That means that a turbocharged 2.0-litre four-cylinder petrol engine is joined by a 19.2kWh battery and electric motor set-up. 

More reviews

In-depth reviews

Land Rover Defender Hard Top review
Land Rover Defender review

Road tests

New Land Rover Defender 90 D250 2021 review
New Land Rover Defender 90 P400 2020 review
New Land Rover Defender 90 P300 2020 review
New Land Rover Defender P400 2020 review

Used car tests

Used Land Rover Defender review

It's capable of running the car emissions free for up to 27 miles and at speeds of up to 87mph in EV mode, returning between 72.4-85.3mpg depending on spec and equipment when relying on both power sources for its official claims. 

CO2 emissions between 74 and 88g/km (again, depending on spec) mean that it stands as the default option for company car drivers after a Defender too, with a Benefit-in-Kind tax rate from 19 per cent.

However, it's also a model Land Rover thinks will be popular with private buyers, thanks to its claims of reduced running costs and its level of performance. After all, only the new V8-powered model is likely to outrun it. Total system power stands at 398bhp, but the huge torque figure of 640Nm means that the 2,600kg Defender 110 P400e hits 0-62mph in 5.6 seconds.

The new Defender has already proven that it's a much more rounded vehicle than the original, with neat and tidy road manners typical of a modern SUV, and to that end the plug-in hybrid drivetrain feels like a thoroughly logical addition to the line-up rather than just a necessary one. 

In terms of appearance you'd barely notice this is the PHEV version, the only giveaway being the addition of the charging flap on the left rear wheel arch. Sit inside, however, and a small, but very important button marked EV now sits on the centre control next to the Terrain Response controls. This is the button in charge of the Defender P400e's hybrid drivetrain modes, of which there are three: EV, Hybrid and Save. 

Hybrid is the default mode from start-up, but you can easily flick through the modes with a prod of the EV button. It reveals a Defender that, while capable of running on battery power alone, is very similar to the rest of the line-up in how it drives. 

The addition of the battery and electric motor adds weight – it's around 400kg heavier than the P300 petrol with the same 2.0-litre engine – but this is a heavy car to begin with. 

As such, the impact of the hybrid system doesn't feel like it has made too much difference to ride quality and to the surprisingly direct way the Defender handles on-road. It still feels surprisingly sharp to turn in, and is still a little firmer than the Discovery. Most things considered, the heavy battery under the boot floor hasn't spoiled the otherwise excellent and recognisable way the new Defender drives.

In Hybrid mode the system will decide for itself when it's best to rely on the engine or utilise the battery and electric motor, and like most modern plug-in hybrid systems it's unflappable and almost undetectable in the way it shuffles between the two power sources.

The turbocharged 2.0-litre four-cylinder engine isn't the sweetest when you lean on it hard though. So the P400e lands in the odd position of being the most refined and quiet member of the Defender line-up when the battery and motor are in charge, while not quite cutting it alongside the six-cylinder petrol and diesel options for smoothness and serenity when the engine takes over. 

If you leave it in EV mode, you'll probably get around 20 miles of electric running, depending on what sort of roads you're driving on. A top speed of 87mph means you can cruise on the motorway on the electric motor if you fancy, but in a car as boxy as the Defender, the wind noise is noticeable. 

Save mode will hold the battery's state of charge, placing greater reliance on the engine. Unlike some other plug-in hybrid SUVs, it won't steadily replenish the battery charge through fuel-consuming power generation. It will hold the battery at a certain level, making only minor use of electrical assistance that it can replenish through brake generation. 

As for running costs, we managed 40mpg across a mix of roads – less than half of the 85.3mpg WLTP figure. However, our real-world economy in the P400e was better than any of the official WLTP mpg figures you'll see for any other model in the Defender line-up. As such, it should live up to its billing as the most affordable to run, should you keep the battery recharged. 

To do that, it'll take two hours to reach 80 per cent plugged in to a 7kW wallbox; 50kW rapid charging is standard, which can replenish the battery to 80 per cent in 30 minutes. 

The integration of the hybrid system does impact practicality, but the Defender 110 is still a vast SUV that will seat five comfortably in its standard seating configuration. Boot space drops a little as a result of a slightly higher boot floor, but it's still huge at 853 litres with the rear seats in place. 

We didn't get to try the P400e on challenging off-road terrain, but it comes with the entire arsenal of Terrain Response off-road functions and features found on other models too, alongside standard adaptive air suspension with adjustable ride height for extra ground clearance. Electric off-road functions are also included, including a low-range setting for the electric motor.

| | |
| --- | --- |
| Model:  | Land Rover Defender 110 X-Dynamic S P400e Auto |
| Price:  | £65,915 |
| Engine:  | 2.0-litre 4cyl petrol with electric motor |
| Power/torque:  | 398bhp/640Nm |
| Transmission:  | Eight-speed automatic, four-wheel-drive |
| 0-62mph:  | 5.6 seconds |
| Top speed:  | 119mph |
| Economy:  | 85.3mpg |
| CO2:  | 74g/km |
| On sale: | Now |

Next Steps

Source: Read Full Article