New Land Rover Defender 2020 review
The new Land Rover Defender is one of the most anticipated new cars in a generation, and it doesn't disappoint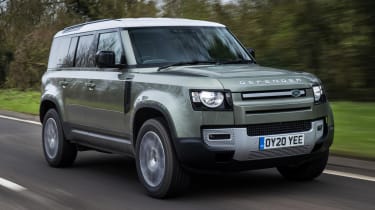 5.0 out of 5
Verdict
The new Land Rover Defender makes its predecessors look one-dimensional. It has all the off-road ability you'd expect (and more), while adding a degree of on-road fun that we weren't expecting. It's one of the coolest designs on the road with one of the greatest interiors, while, against many of its rivals, it even looks decent value. In short, it's a winner and we love it.
It was back in 1971 that initial discussions about replacing the then Land Rover Series II began. It didn't happen – for a while at least. That car was kept alive with various tweaks and name changes – becoming the Defender in 1983 – until production stopped four years ago.
Now its replacement – and one of the most eagerly anticipated new cars of a generation – is about to be delivered to its first customers. But not before we've been given the chance to give you our verdict on the all-new Land Rover Defender. And boy have we been excited to be able to do that.
Best 4x4s to buy now 2020

We can lay one worry to rest right away: the new Defender is a sensational vehicle.

We've been living with the looks of the car since its unveiling at last year's Frankfurt Motor Show, but on a cold, damp, dreary day in the UK, it brightens things up a treat.

More reviews for Defender 4×4

Car group tests

Land Rover Defender vs Jeep Wrangler: modern classic head-to-head
Toyota Land Cruiser vs Land Rover Defender

In-depth reviews

Land Rover Defender (2012-2016) review

Road tests

New Land Rover Defender Works V8 2018 review
Land Rover Defender Heritage Edition review
Land Rover Defender 90 2015 review
Land Rover Defender 110 Adventure review
Land Rover Defender Challenge by Bowler review

It's the sort of design that grows on you, especially as your eyes linger on the car's shoulders and the way they mimic the iconic original's. The lights – front and rear – are delightfully detailed and look like nothing else. Then there are the proportions: clearly those of a Defender but much, much larger, as you'd expect from a modern 4×4.

Swing the door open and the interior is also like nothing else. There are exposed screw heads, powder-coated aluminium surfaces, a glorious magnesium bulkhead that's proudly stamped with the word 'Defender' and even strips of body-coloured metal. Not exactly usual Land Rover luxury, but as cool as anything produced by Apple.

The Defender's tech can match the US giant's, too, with the slickest touchscreen we've yet seen from JLR – they call it Pivi Pro – with software-over-the-air updates and the latest smartphone connectivity.

Then there's ClearSight, in Mirror or Ground forms. The former is a rear-view mirror that can be used in the traditional sense or will take a feed from a camera when the rear screen's too dirty to get a view out. The latter uses the 10-inch touchscreen to give a view, seemingly through the bonnet, of the road ahead and underneath – clever stuff and invaluable when off-roading.

Land Rover has long been the master of usability, but the Defender takes it to a whole new level, with a deep central storage bin with myriad configurations, deep door pockets and a long shelf that runs the width of the instrument panel. Oh, and for anyone who's ever had the pleasure of driving an old Defender, it'll be a less bruising experience – you won't be banging your right elbow on the door as you're driving!

As you'd expect, you can personalise your Defender to your heart's content. As well as a cornucopia of colours, you can have a fridge, an extra seat, or absolutely nothing between the two front seats. You can add a further two seats in the boot to make this 110 Defender (the three door 90 comes later) a seven seater, but not when the front row middle seat is specified, for some reason. The middle row offers bags of space and will slide forward to make the third row passable for taller children, if not adults. There are cup-holders, power outlets and air vents for all, while boot space goes from 231 litres with three rows in place to 916 litres with two rows and a van-rivalling 2,233 litres with all but the front seats stowed in the floor.

The choice of Defenders and options is both tempting and bewildering. There are Defender, S, SE, HSE, First Edition and X models, plus Explorer, Adventure, Country and Urban option packs. Plus hundreds of other accessories; no opportunity to sell you an add-on has been missed.

So Gerry McGovern's design team has delivered, but what about mercurial engineering director Nick Rogers and his team? How does the Defender drive?

Our car is an S with the more powerful of the two diesel engines, at 237bhp (the other offers the same 430Nm of torque, but with 197bhp). Petrols – one with four cylinders and 296bhp, the other with six cylinders, mild-hybrid tech and 395bhp – complete the range until plug-in hybrids join the party.

Let's deal with some criticism we've dished out to Land Rover first: surely Defender will steal sales from Discovery? That may still be the case, but within the first few hundred metres, it's clear that the two cars have very different characters.

The Defender instantly feels more alert. Its steering is quicker to react and feels more direct, while the ride on air suspension (coils are available) is firmer than a Disco's – still comfortable, but more communicative.

We'd even dare to say that the Defender feels sporty; playful even. Pitch the square nose into a corner swiftly and lift off the throttle, and the car will adjust its line neatly, digging the front end in even tighter.

Through quicker corners, where many an off-roader will lean amidst squeals of protest from the tyres, the Defender stays resolutely (and eerily) flat. In fact, you've got to push really hard to induce understeer, and even then the steering gives you plenty of notice. Rogers told us that his brief to his team was to make the car fun. They've succeeded. And we certainly weren't expecting that.

On the motorway there's a bit of wind noise around the A-pillars (but not the door mirrors) as the bluff front end barges its way through the air, but otherwise the car is hushed and, again, stable and secure.

This is the best installation yet of JLR's Ingenium diesel, too. The sound – tweaked through the use of the car's audio system – is more of a rumble than a growl, while the throttle response is surprisingly good.

Economy? Well, while the rest of the car moves the SUV game on hugely, the claimed average is where most other Land Rover SUVs have always been – low 30s, if you're lucky.

Many people will be buying Defenders to work as well as play, and chief engineer Mike Cross revealed the order of play for his team. "We had to make sure the car could do everything we wanted it to do off road before concentrating on the on-road dynamics," he told us.

Rest assured that the air suspension, twin-speed transmission, locking centre and active rear locking diffs, all mated to Land Rover's latest Terrain Response technology, mean the Defender will go more places more of the time than any other 4×4.

You access the off-road controls via the touchscreen, of course, but also by pressing a single button and using one of the air-con controls – a clever way of minimising the buttons and dials across the dash.

The Defender's cleverness extends to the very back of the car and towing, too. Its cameras will help you line up with your trailer, while the air suspension allows you to lower, then raise the rear end to take the pain out of coupling. Oh, and there's a towing capability of up to 3,500kg.

The new Defender is one of the cleverest cars we've ever come across: in its design, engineering and positioning. Yes, it does many of the things a Discovery will do, but in a cheekier (or cheaper) way. It's not as plush – in terms of finish or drive – but it's more youthful, more fun and every inch a Defender.

| | |
| --- | --- |
| Model: | Land Rover Defender 110 D240 S |
| Price: | £51,750 |
| Engine: | 2.0-litre four-cylinder diesel |
| Power/torque: | 237bhp/430Nm |
| Transmission: | Eight-speed auto, four-wheel drive  |
| 0-60mph: | 8.7 seconds |
| Top speed: | 117mph |
| Economy: | 31.7mpg |
| CO2: | 199g/km |
| On sale | Now |

Source: Read Full Article