New Lamborghini LB744: latest on 1,001bhp flagship
Lamborghini's Aventador replacement will feature a plug-in hybrid V12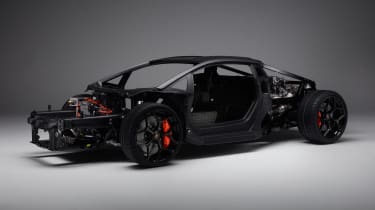 A full reveal for the next generation Lamborghini supercar is almost upon us, but before the car is properly unveiled, the Italian firm has given us more technical information to whet our appetite. 
We already know Santa Agata's halo car will utilise a V12 with plug-in hybrid technology – a first for the brand – but it will also feature plenty of fresh technology and a new design for its underlying construction. 
Plug-in hybrid Lamborghini Huracan replacement due in 2024
Lamborghini says its new supercar, codenamed LB744 for now, will use an aeronautics-inspired monocoque made entirely from carbon fibre. Lamborghini calls the shell a 'monofuselage' and claims it's 10 per cent lighter than the Aventador while also having a 25 per cent stiffer torsional rigidity. 
The LB744's integrates a plug-in hybrid system for the first time, but Lamborghini has retained its most iconic engine layout in the shape of a 6.5-litre V12. The petrol engine itself produces 814bhp and 725Nm of torque at 9,250rpm with the rev limit sitting at a lofty 9,500rpm. This means the new LB744 has the most powerful V12 in Lamborghini's history, and that's before we get to the additional power from the hybrid system.
The battery capacity stands at 3.8kWh and the battery itself sits between the occupants in what would traditionally be the transmission tunnel. The hybrid system includes three electric motors, two on the front axle and one on the rear, meaning the car's four-wheel drive system powers the front wheels through electricity only. The three electric motors and the V12 combine for a total output of 1,001bhp.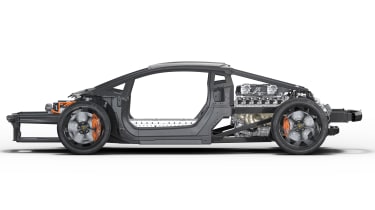 Lamborghini has fettled its traditional layout extensively in its new model. The V12 has been rotated 180 degrees so the eight-speed double-clutch transmission sits behind the engine for packaging purposes. The gear shift paddles can now activate 'continuous downshifting' by holding down the left paddle to drop multiple gears in one go. 
Performance figures haven't been revealed just yet, but with the extra power we expect a 0-62mph time of around 2.5 seconds and a top speed over 217mph. 
Speaking to Auto Express, Chief Technical Officer Rouven Mohr said the powertrain allows for "increased bandwidth of driving character, whilst being our sharpest V12 ever. The sound has improved and the reactiveness." 
Lamborghini CEO Stephan Winkleman added that while there are sustainability benefits to the new hybrid setup, "the main aim of this car is to use the battery as an accelerator of additional power. It gives you incredible power and also very good handling behaviour for a car of this weight, which is incredible."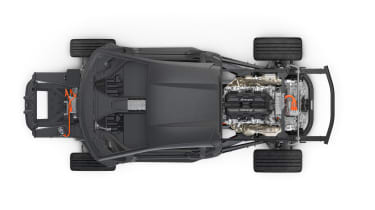 Those sustainability benefits can be seen in a 30 per cent reduction in CO2 emissions compared to the Aventador Ultimae. The plug-in hybrid system can also power the car by itself – for an electric only range of around 6 miles (although this is still subject to WLTP testing). The battery recharge speed maxes out at 7kW, meaning a full recharge will take 30 minutes. Lamborghini says you can recharge the battery through brake regeneration in around 6 minutes, however. 
Winkleman also spoke on Lamborghini's future and why the firm is focusing on plug-in hybrid rather than going fully-electric. "We have to be careful and flexible. We have to invest in this engine to comply for Euro 7 emissions, we'd rather invest in electrification." However, the CEO did follow up by stating, "there are a lot of things that need to be managed. There's an opportunity for synthetic fuels in the future. For pure-electric, a full EV can be more emotional than an internal-combustion engined car".
LB744 patent image leaks 
The teaser images accompanying the release of these powertrain figures don't give much away about the LB744's design, but previous patent leaks have given us a good look at Lamborghini's new car. 
The Aventador's successor will build on styling themes previewed by the limited-run Sian, with a large Y-shaped headlight signature and a sharply sculpted bonnet echoing that of the iconic Countach.
Top 10 best plug-in hybrids to buy 2023
As with previous V12 Lamborghinis, the first iteration of the new model will be free of large splitters and fixed spoilers, with bewinged track-honed versions expected later in its lifecycle. Still, a scalloped area behind the front wheels will extract air from the arches to reduce lift, and gaping side vents will feed air to the mid-mounted engine. 
The Y-shaped theme continues with the tail lights, which flank a pair of enormous hexagonal exhaust tips. These are mounted just below the rear deck to free up space for a larger diffuser, which will work in tandem with an active rear wing to provide stability at speed.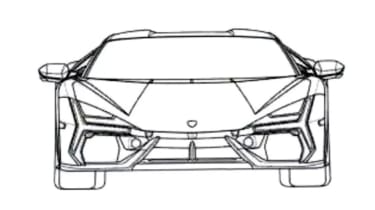 Speaking of his experience in prototype versions of the car, Mohr suggested the hybrid system will mean drivers can blend typical supercar thrills with the serenity of electric motoring. "It's an extremely cool feature if you drive with this emotional high-revving sound, [then arrive at] the village, switch off, then silence. And then, in 'stealth mode' you run out, and then after you exit again: BAAAH! Full power!." Mohr also mentioned it's "so easy to drift" the LB744. 
The car won't break cover until the end of Q1 2023, Winkleman noted, and yet, Lamborghini has already taken 3,000 pre-orders.
Lamborghini plans on going all-in on its electrification strategy, aiming to have at least a hybrid powertrain in all of its vehicles by 2024. By 2028, we're also due to see the brand's first pure-electric vehicle.
Now check out our list of the best supercars on sale right now…
Source: Read Full Article