New Kingsley ULEZ Range Rover Classic 2021 review
Want an old Range Rover without all the classic car foibles? Kingsley Cars might have the answer…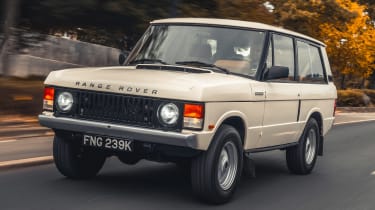 4.0 out of 5
Buy used for less at Buyacar
Verdict
Even though we're standing on the precipice of the electric revolution, there's still a place in the world for petrol-swilling V8-powered off-roaders – especially ones as handsome as the original Range Rover. Also, if you're still resistant about making the switch to EV power in the wake of the newly expanded ULEZ charge, you'll be happy to find out that this restomod is exempt from the tax on account of its age. It might be worth weighing up the fuel costs first before you rush out and buy one, though.
Restomodded classic cars have exploded in popularity over the past few years. People seem to want what they can't have – and the Government's 2030 ban on combustion cars has left buyers hungry for a car that gives them one last taste of how motoring used to be, before electric power becomes the norm.
The Kingsley Cars Reborn Range Rover Classic certainly fits that bill. It's rather agricultural, it has very little in the way of safety equipment and it's only available with an old-school V8 engine. And, as an added benefit for those who spend any amount of time around London, it's elderly enough to be exempt from the newly expanded Ultra Low Emission Zone charge.
"Unleashed" launched as 400bhp Jaguar E-Type restomod

Naturally, then, our test drive took us straight through the middle of London, which we'll admit isn't where the Reborn Range Rover Classic is at its best. It'd be much happier on an open road (with enough air flowing through the grille to keep the engine and gearbox cool) on its way to a green lane, or maybe even a pheasant shoot.

More reviews

Car group tests

BMW 7 Series vs Range Rover

In-depth reviews

Road tests

New Range Rover D300 Westminster 2021 review
New Range Rover D350 Autobiography 2020 review
New Range Rover P400 Vogue 2020 review
New Range Rover SDV8 2019 review
Range Rover Vogue review

Used car tests

The fuel-injected 4.6-litre V8 engine in our range-topping test car had plenty of poke. There's 270bhp on tap, which is more than enough for the old brute to get out of its own way and, more importantly, double the amount of power you got from the carburetted 3.5-litre V8 engine found in the earliest examples.

Even with fuel injection, it's still a hilariously inefficient way of getting about. We used a quarter of a tank of fuel during our 15-mile test route, which works out at around four miles to the gallon. It's an entertaining way of burning money, though, because the engine sounds fantastic – especially when the exhaust note is rattling off the low bridges and high-rise buildings of Central London, setting off car alarms.

Kingsley Cars also offers a less powerful 4.0-litre V8 engine on the entry-level model which is slightly more frugal. But, if you hold fuel economy in high esteem, you really should be looking elsewhere.

The car we drove was one of the first cars the company built, so it still had some teething problems. It was fitted with the Range Rover Classic's original automatic gearbox and transfer case, both of which got rather grumpy sitting in London traffic. 

When stationary, the gearbox groaned if it was in any gear other than neutral and, by the time we'd reached the end of our route, the heat pouring off the transmission was so intense that you couldn't put your hand on the centre console without running the risk of losing your fingerprints.

Kingsley Cars knows this isn't acceptable, and has since swapped the standard unit for a rebuilt version of the same four-speed ZF automatic found in later versions of the Series 1 Range Rover, which we're told has fixed the driveability issues. The ZF gearbox was also originally supposed to be an optional extra, but it's now fitted as standard.

As we were only tootling around the city, we didn't really get the chance to test the limits of the Range Rover's chassis, either. However, one thing we did notice was how good the ride and refinement was for a car of this age, primarily because the car's 50-year-old suspension has been thrown in the bin and replaced with new dampers, bushes and springs all round.

On the upside, our more relaxed rate of progress gave us plenty of time to explore the car's interior which, we have to say, is beautifully appointed. The leather and herringbone trim on this particular model matches the Range Rover's character well, and there's just enough technology available to make it comfortable for a modern audience.

The technology doesn't hurt the Range Rover's charm, either. Kingsley Cars has done a good job of placing the equipment out of your sightlines, which keeps up the illusion that you're driving something half-a-century old, despite the fact that almost every nut and bolt in the car is new.

The infotainment system is buried at the bottom of the dashboard, while the wireless smartphone charger atop the dash could be mistaken for a simple storage tray to the uninitiated. The original gauges have been retained, too, and the USB ports for the touchscreen are hidden away in the centre console.

Even the purists can't argue that it's a very convincing package, but we've reached that point in the review when it's time to address the elephant in the room – the price. At £125,000, it's quite steep. You could comfortably get a brand-new Mk5 Range Rover with a few options for that sort of money.

And that's before you learn that almost everything on the Kingsley Cars Reborn Range Rover Classic – including the more powerful 4.6-litre V8 engine, the modern infotainment system, the sunroof, the wireless smartphone charger and even the electric power steering system – is an optional extra.

Kingsley Cars says the high price is due to the amount of rust-proofing work that goes into each car. Tin worm has long been the Achilles heel of the Range Rover Classic, so every build starts with a strip down of the chassis and body, both of which are then repaired, dipped in an anti-corrosion agent, undersealed and painted before being reassembled.

It might be a little unsporting of us to compare the Kingsley Cars Range Rover Classic to its modern equivalent, because they're aimed at different buyers. Those considering the restomod don't care about fuel economy, technology or residual values – they're just looking for a way to get that classic car experience without all the classic car headaches. 

Like most restomod cars, it's something you buy with your heart rather than your head. You enjoy it for its character and you drive it because of the experience it provides – not just because it transports you to your destination. And, judged by that metric, we'd have to put Kingsley Cars at the top of the class. There's little else on sale today that's quite so special.

| | |
| --- | --- |
| Model: | Kingsley Cars ULEZ Reborn Range Rover Classic  |
| Price: | From £125,000 |
| Engine: | Fuel-injected 4.6-litre V8 petrol |
| Power/torque: | 270bhp/416Nm |
| Transmission: | Four-speed automatic, four-wheel drive |
| 0–62mph: | 9.0 seconds |
| Top speed: | 110 mph |

Next Steps

Source: Read Full Article