New Jaguar F-Pace SVR Edition 1988 2022 review
The new special Jaguar F-Pace SVR Edition 1988 comes with plenty of cosmetic tweaks, but does that justify its huge price tag?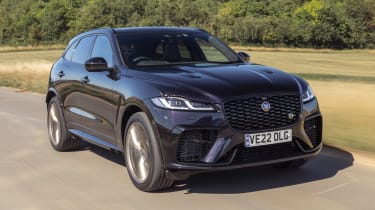 4.0 out of 5
Buy used for less at Buyacar
Verdict
The Jaguar F-Pace SVR Edition 1988 serves as a reminder of just how sorted the standard car is. Its savage powerplant dominates proceedings, but the SVR's absorbing handling, interior tech and refinement place it among the best performance SUVs you can buy. However, the Edition 1988's cosmetic tweaks aren't enough to justify the huge price premium – and we're not entirely convinced that the project does justice to Jaguar's historic Le Mans victory.
In 1988, a Jaguar XJR-9 scorched through Circuit de la Sarthe in the hands of Andy Wallace, Johnny Dumphries and Jan Lammers to take victory at the Le Mans 24 Hours. The sinewy, V12-engined brute ended Jaguar's three-decade-long dry spell at the world's most prestigious endurance race. But what really etched the XJR-9 into the minds of race fans was altogether more superficial: the livery. Jaguar's title sponsor was tobacco brand Silk Cut, and the XJR-9 was draped in its purple and white colour scheme to create one of motorsport's iconic liveries.
This year, Jaguar is rekindling memories of Le Mans with the F-Pace SVR Edition 1988. In reference to the number of laps completed by the victorious XJR-9, just 394 will be built, each powered by a 5.0-litre supercharged V8 powering all four wheels through an eight-speed automatic gearbox.
Fastest SUVs in the world 2022

Immediately, it's difficult to draw parallels between the XJR-9 and a 2,133kg SUV – we think an F-Type would be a better fit for the special edition – but Jaguar has painted the car Midnight Amethyst purple to echo the Le Mans racer. It's a deep hue that only reveals flashes of purple in direct sunlight, rather than the eye-popping Silk Cut shade.

More reviews

Car group tests

Jaguar F-Pace vs Volvo XC60

In-depth reviews

Jaguar F-Pace review
Jaguar F-Pace SVR review

Road tests

New Jaguar F-Pace P400e PHEV 2021 review
New Jaguar F-Pace SVR 2021 review
New Jaguar F-Pace P400 2021 review
New Jaguar F-Pace Chequered Flag 2019 review

The Edition 1988 also gets satin gold 22-inch wheels, bespoke badging on the front wings, black styling elements and a unique plaque inside, along with black semi-aniline leather upholstery and satin gold trim pieces.

Beneath that hulking purple exterior, the limited-run car is mechanically identical to the standard F-Pace SVR. Some extra power and chassis tweaks would've been welcome as a tribute to the XJR-9, but it's immediately clear that the package doesn't have – or need – any extra headroom. The F-Pace SVR is one of the finest performance SUVs on sale today.

On the move, the SVR's engine response, steering, damping and gearbox calibration can be tweaked individually to unlock an impressive breadth of ability. Slacken off the dampers, close the exhaust valves and the Edition 1988 is a calm, opulent SUV which, while firm, tackles some scarred roads better than a standard F-Pace. Turn up the wick, and it takes on a different character altogether.

It's difficult to beat a large capacity, supercharged motor for response, and in Dynamic mode, the engine feels tense and eager to whip around the rev counter and thunder into the redline. The bellowing soundtrack is addictive, too, and the forward thrust savage – the F-Pace squats on its back axle and homes in on the horizon at an alarming rate.

The torque converter gearbox slurs changes nicely while cruising, but Dynamic mode provides punchier shifts that almost mimic a DCT; we could do without the contrived exhaust crackles, though.

The Edition 1988 is heavier than rivals from Porsche or Alfa Romeo so lacks their final degree of athleticism, but the chassis is very well judged for an SUV. The steering builds load naturally in Comfort mode and the measured rate of response is in tune with the SVR's bulk, allowing you to push it accurately through corners.

The Dynamic suspension mode delivers a busier ride and tightens the body control, but selecting the softer damper setting unlocks the Edition 1988's natural balance, with the extra compliance allowing you to alter the car's attitude through a corner.

Pin the nose at an apex, gently introduce the throttle and the F-Pace will gradually slide wide, but commit through this phase, apply more power and the car's active rear differential comes into play, the rear tyres edging out of line but requiring little correction from the driver. Very few SUVs provide this sense of adjustability.

The Edition 1988's brakes are strong too – useful given its weight and explosive performance – and the interior is up there with the best in class. Fit and finish is mostly good, and the Edition 1988's toned down black trim and subtle gold detailing is tastefully done.

As with the regular F-Pace SVR, the 11.4-inch Pivi Pro infotainment system is crisp and responsive and features Android Auto, Apple CarPlay, a 3D surround camera, plus a beefy Meridian audio system too. The SVR's heated and cooled sports seats aren't the most supportive for long drives, though.

There's plenty of space for adults in the back, and the huge 650-litre boot is useful for a weekend away. Perhaps the biggest issue for the 1988 Edition is the existence of the standard F-Pace SVR; costing £81,510, it undercuts the special edition by an enormous £23,955. Admittedly, the gap is smaller when speccing a standard car to the level of the Edition 1988, but unless you're a particularly big fan of purple, we'd plump for the normal SVR instead.

| | |
| --- | --- |
| Model: | Jaguar F-Pace SVR Edition 1988 |
| Price: | £101,550 |
| Engine: | 5.0-litre supercharged V8, petrol |
| Power/torque: | 542bhp/700Nm |
| Transmission: | Eight speed automatic, four-wheel drive |
| 0-62mph: | 4.0 seconds |
| Top speed: | 178mph |
| Fuel economy: | 23.1mpg |
| CO2: | 275g/km |
| On sale: | Now |

Next Steps

Source: Read Full Article