New Ferrari SF90 Spider 2022 review
The greatest Ferrari? No, but there are more times than not when it's certainly one of the most exciting.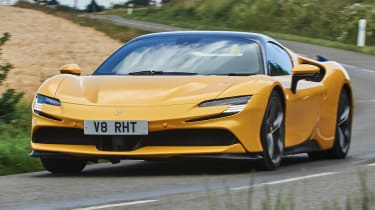 4.5 out of 5
Verdict
Ferrari's most powerful, complex and fastest road car to date loses none of its excitement, thrills and intoxicating level of performance in Spider form. It lacks the delicacy of modern-era Ferraris as it harnesses a ferocious powertrain that sets the blueprint for every next-generation model from the Italian firm.
It possibly won't come as much of a surprise to hear that by removing the roof from Ferrari's SF90 coupe to create the Spider, very little impact has been made as to how the car drives. It remains one of the most potent road cars you can buy.
Best convertibles and cabriolets 2022

It still packs a total of 986bhp, generated by the combination of a thumping great 4.0-litre twin-turbocharged V8 accounting for 769bhp and a 7.9kWh battery powering three electric motors (two on the front axle, one on the rear) producing an additional 217bhp.

As you'd expect, it's still fast – oh so fast – that to indulge in all that power and 800Nm of torque firing it towards the horizon, experiencing the 2.5-second 0-62mph time, can feel a little reckless. And by all accounts pretty horrible as a passenger, too.

But you will launch it, maybe only once, but you will. And you will experience sensations few road cars can deliver. Yes, featherweight Caterhams have bloodied a few noses over the decades with maddening acceleration times, but a Seven can't also deliver you to your destination 400 miles away, cooled, calm and collected. The SF90 Spider is as much the ultimate grand tourer as it is an out-and-out hypercar hooligan.

Yes, it will cover the ground at speeds that don't bear thinking about. And yes it retains Ferrari's dynamic DNA – including razor sharp steering, although it's not as quick as other models in the line-up and possesses a calmer, less frantic approach to pitching you into a corner. However, we're talking by Ferrari standards here, so everything is relative. And yes the powertrain is a bit of a mind scrambler as it switches from super responsive V8 to silent electric power. Yet it's how it flows and remains so calm when you expect the world to implode inside the cabin everytime you think about opening the throttle that has you a little slack jawed.

More reviews

Road tests

New Ferrari SF90 Stradale 2020 review

When you think of a car pushing nearly 1,000bhp you think of a machine that requires bare knuckles and forearms and shoulders that can prop up buildings, but in the SF90 Spider with the roof open (folded away in 14 seconds above the engine compartment and robbing you of what little storage the car had) there's an irresistible appeal to settling in to a quick cruise rather than a rabid race.

It rides with a suppleness you're simply not expecting. The adaptive dampers soak, absorb and flatten the imperfections to a point where you only notice what you need too and feel nothing that you shouldn't, installing a level of confidence that very quickly reassures you the SF90 Spider is a car that will play to your tune rather than one that will dictate its to you. You build an instant rapport, asking more of yourself to explore more of what's available.

So you push harder, and while it doesn't bite the sensations build that you're taking a bigger step into its performance, building up to the point where the GT nature you've sunk into and enjoyed is about to turn a little more feral.

It starts by pressing qualifying mode on the steering wheel's haptic control, a pull of the left hand paddle, maybe two. The illumination of a couple of lights embedded in the top of the steering wheel, a boom from the V8's exhaust, a whizz of revs round the tacho. No matter how long the Spider has cosseted you, charmed you and comforted you, now it's primed and now its performance is all that matters.

Roof open, road stretching out ahead, the SF90 Spider is no less intoxicating, exhilarating and befuddling for anyone who's brain hasn't been tuned at Fiorano than its coupe counterpart. Every gear delivers a bruising thump of performance, the speeds are hard to comprehend and you're grateful that the braking performance is no less impressive than the accelerative forces, the initial sharpness at low speeds welcome when the world goes to hyperspeed.

Negatives? It might be a great GT car when it comes to compliance, performance and refinement, but it has next to no luggage space. It's also frighteningly expensive before you play with the options, and perhaps its biggest challenge is the recently revealed 296 GTS. While down nearly 200bhp it'll likely be no less thrilling to drive.

In fact, it will most likely be better resolved and a more involving experience. For some this won't matter one bit, because if you want the ultimate Ferrari road car the SF90 is it. Roof open or closed.

| | |
| --- | --- |
| Model: | Ferrari SF90 Spider |
| Price: | £418,233 |
| Engine: | 4.0-litre twin-turbo V8 PHEV |
| Power/torque: | 986bhp/800Nm |
| Transmission: | Eight-speed dual-clutch automatic, four-wheel drive |
| 0-62mph: | 2.5 seconds |
| Top speed: | 211mph |
| Economy: | TBC |
| CO2: | 149g/km CO2 |
| On sale: | Now |

Now read our full review of the Ferrari 296 GTB…

Source: Read Full Article