New DS 3 PureTech 130 2023 review
A UK drive of the DS 3 PureTech further reinforces our view that it makes much more sense than the pricey E-Tense EV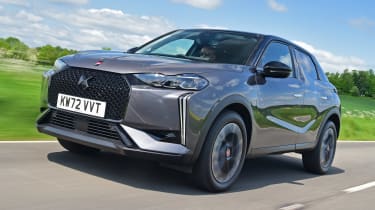 3.5 out of 5
Buy used for less at Buyacar
Verdict
This cheaper, petrol-powered version of the DS 3 makes much more sense than the pricey E-Sense electric version. The powertrain suits the car well and offers up plenty of power and decent enough refinement. We're big fans of the DS 3's atypical interior, but less enamoured with the user interface, and the ride could be better sorted as well.
The DS 3 Crossback is dead. Sort of. Much like the larger DS 7 Crossback, which ditched the second bit of its name after a mid-life refresh, the French brand's entry-level car is now simply known as 'DS 3', although it's not hugely different from the old, lengthier-titled machined. 
Rather than use this opportunity to declutter the car's rear end, DS has instead replaced the 'Crossback' lettering with 'DS Automobiles'. Widely spaced capital letters foisted on the rump of a car are very much in vogue still, it seems. 
Top 10 best small SUVs and crossover cars to buy 2023

Most of the facelift's styling tweaks are concentrated at the other end of the compact SUV. There's a new, larger grille, while the brand's new 'DS Wings' daytime-running light signature features, albeit in a less dramatic form compared to what's seen on the DS 4 and DS 7. The finishing touch comes in the form of fresh wheel designs ranging from 17 to 18 inches in diameter. 

More reviews

Car group tests

DS 3 Performance vs Ford Fiesta ST200 vs MINI JCW Sport

In-depth reviews

DS 3 review
DS 3 (2009-2019) review

Road tests

New DS 3 E-Tense 2023 review
New DS 3 Crossback 2019 review
New DS 3 Performance Line 2017 review
New DS 3 Cabrio Performance Black 2016 review

The inside hasn't been played about with a whole lot, which means it's still pleasingly different from rival offerings. There's a cluster of diamond-shape buttons surrounding diamond-shape central air vents dominating the dashboard and two banks of switches – including the electric window controls – with a knurled finish. Less good is the armrest which rubs on each front seat when retracted. As for the seats, they're comfortable, although we're unsure about the heavily textured surface – it's a cool, retro look, but could prove uncomfortable in the summer months when in contact with skin.

The dash features a new 10.3-inch touchscreen infotainment screen, flanked by a seven-inch digital instrument cluster. The fresh infotainment setup is an improvement on the clunky unit found previously, but it's a pain that so many functions, especially the climate controls, require its use. We also had issues changing DAB stations – strangely, the search function would only let us enter frequency codes, not station names.

While those diamond buttons look great, they're not so pleasant to use. Other than the on/off button, they're solid tiles offering no feedback to let you know you definitely pressed hard enough. This isn't helpful, considering we often found ourselves having to press some buttons more than once for anything to happen.

Speaking of buttons, a long-ish press of the stop/start (a quick prod does nothing, as in many Stellantis products) awakens the familiar 1.2-litre 'PureTech' 130 petrol engine. This is our first UK drive of a DS 3 thusly configured – our previous first taste on these shores involved the 'E-Tense' electric version, which the 130 undercuts by just over £8,500.\

New DS 3 E-Tense 2023 review

That's a big premium to pay when the PureTech suits the DS 3 so well. Yes, it passes too many vibrations through to the cabin on idle, even for an inline-three, but otherwise, it leaves little reason to grumble. Producing 128bhp and 230Nm, it provides respectable straight-line performance, cracking the benchmark 0-62mph sprint in 9.2 seconds. 

Healthy reserves of mid-range torque mean you don't have to work the triple too hard to make decent progress, and the eight-speed automatic gearbox is usually on the ball when it comes to providing an appropriate ratio, even if it's not as slick as some. The 'Cobra' gear selector still looks a little incongruous, though – other Stellantis models have long since binned the unusual arrangement. 

Unfortunately, the DS 3's ride hasn't been fixed as part of the refresh. For a car supposedly pitched at being comfort-focused, it doesn't quite hit the mark. Its low-speed composure, or lack thereof, is the main issue – the DS 3 takes speed bumps in an uncomfortable fashion, with a surprisingly sharp feeling to the rebound stroke of the dampers. The car settles more at speed, but can still struggle when driven over imperfections in the road surface. 

When driven on a twisty road, the DS 3 is competent but unremarkable. It feels fairly average in terms of grip and the suspension keeps body roll in check, while the steering is vague and – thanks to a variable power assistance system – at times surprisingly heavy. 

Of more relevance to the average DS 3 buyer is refinement on the move, which the car does well. Wind and road noise are well contained, even at motorway speeds. Coupled with the unconventional but generally well-finished cabin, the DS 3 will prove a fine companion for longer trips. 

You won't be able to bring quite as much with you as in some rivals, though. The boot space is 350 litres, expanding to 1,050 with the rear seats folded, compared to 385 litres in a Volkswagen T-Cross, which goes up to 455 litres with the rear bench slid forward and 1,281 with it folded. 

Along with the name change and the tweaks to the car itself, the DS 3's trim structure has been overhauled. Performance Line is now the starting point, then there's the Performance Line+, Rivoli, and finally, Opera. It gets expensive at the furthest end of the spectrum – an Opera with the same PureTech 130 found in our Performance Line+ test car is £34,025, while the all-electric E-Tense version is a whopping £42,700. The entry-level Performance Line, it's worth pointing out, is the only version that can be combined with the 99bhp PureTech engine and a manual gearbox, which is why it can be bought so much cheaper (from £25,920) than other grades.

The £30,500 Performance Line+ is probably as far as we'd go. Its standard spec list includes 18-inch wheels, a voice recognition system and keyless entry, a suite of safety technology features, flush-fitting door handles, a digital instrument cluster and the new 10.3-inch touchscreen infotainment screen with wireless Apple CarPay/Android Auto connectivity.

| | |
| --- | --- |
| Model: | DS 3 PureTech 130 |
| Price: | £30,525 |
| Engine:  | 1.2-litre 3cyl turbo petrol |
| Power/torque:  | 128bhp/230Nm |
| Transmission:  | Eight-speed auto, front-wheel drive |
| 0-62mph:  | 9.2 seconds |
| Top speed:  | 124mph |
| Economy/CO2:  | 42.8mpg/148g/km |
| On sale:  | Now |

Source: Read Full Article