New car sales 2020: Registrations down 2.9 per cent in February
March's data reveals expected collapse of new car market materialised last month; April's figures could be even worse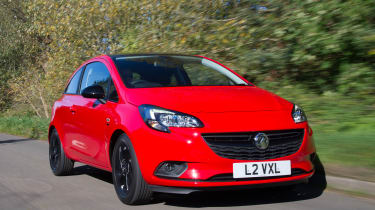 It stands to reason that if car showrooms are closed, fewer cars will be sold – and that's precisely what happened last month, as the coronavirus lockdown saw new car registrations fall by a dramatic 44.4 per cent.
The collapse – while expected – brings new-car registrations down to a level lower than any seen since the 1990s, and has seen the Society of Motor Manufacturers and Traders (SMMT) downgraded its projected annual 2020 sales figure 23 per cent to 1.73 million cars. 
Can I drive my car during the UK's coronavirus lockdown?
But the worst may yet be to come: with the Government only announcing an enforced lockdown over mid-way through last month, buyers may still have been attending showrooms for the first part of March. April, with dealerships deemed non-essential businesses and closed all month, is likely to see all but online new-car sales dry up completely. 
The SMMT warns other European countries that shut down their countries earlier than the UK saw more dramatic declines last month, with Italian sales down 85 per cent, the French market falling by 72 per cent, and Spanish registrations dropping by 69 per cent.
Despite last month's significant decline in registrations, some 11,694 pure electric cars were delivered in March, accounting for 4.6 per cent of the market. Plug-in hybrid sales, meanwhile, rose 38 per cent.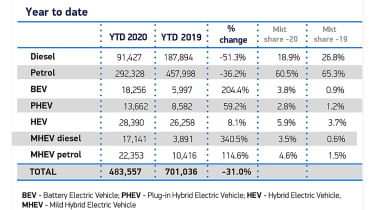 The SMMT also highlighted the positive work being done by the automotive industry in the wake of the crisis, with Formula 1 teams and other firms racing to make medical ventilators, and manufacturers pledging both staff and vehicles to help front-line workers.
Mike Hawes, chief executive of the SMMT, said: "With the country locked down in crisis mode for a large part of March, this decline will come as no surprise. Despite this being the lowest March since we moved to the bi-annual plate change system, it could have been worse had the significant advanced orders placed for the new 20 plate not been delivered in the early part of the month. 
"We should not, however, draw long term conclusions from these figures other than this being a stark realisation of what happens when economies grind to a halt.
"How long the market remains stalled is uncertain, but it will reopen and the products will be there. In the meantime, we will continue to work with government to do all we can to ensure the thousands of people employed in this sector are ready for work and Britain gets back on the move."
Click here to find out the best car leasing deals right now…
Source: Read Full Article