New-car market sees weakest August since 2013
Semiconductor supply issues continue to hold UK new-car registrations back, with market down 7.6 per cent on 10-year average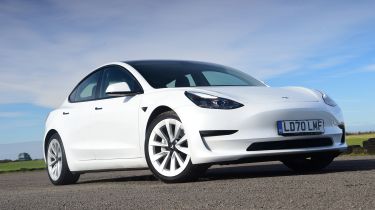 The UK new-car market has seen its weakest August since 2013, with 68,033 registrations recorded during the month. This figure was a 22 per cent year-on-year decline and down 7.6 per cent on the 10-year August average, as the ongoing semiconductor shortage continued to hinder manufacturing.
The good news from the month was a surge in electric car registrations; these were up 32.2 per cent, with 7,388 examples registered, according to the latest figures from the Society of Motor Manufacturers and Traders (SMMT). Registrations of conventional hybrids and plug-in hybrids, meanwhile, shot up by 45.7 per cent and 72.1 per cent respectively.
Registrations for the fleet market tumbled 27.5 per cent in August. Nearly half of new cars registered during the month were for private buyers, but these were still down 15.2 per cent to 33,771 units.
Best-selling cars of 2021
Interestingly, the Ford Puma topped the monthly sales chart, followed by the Volkswagen Polo and Toyota Yaris. The best-selling car so far this year – the Vauxhall Corsa – was down in seventh place, while the Ford Fiesta was eighth.
New-car registrations in the year to date are up 20.3 per cent on 2020 as it stands, with 1,101,302 new cars having been registered in the last eight months, but last year was understandably much weaker than average due to the impact of Covid-19. Compared with the 10-year new-car market average for January to August, the first eight months of 2021 were down 25.3 per cent.
Mike Hawes, chief executive of the SMMT, said: "While August is normally one of the quietest months for UK new-car registrations, these figures are still disappointing, albeit not wholly surprising.
"The global shortage of semiconductors has affected UK, and indeed global, car production volumes, so new-car registrations will inevitably be undermined. [The] Government can help by continuing the supportive Covid measures in place currently, especially the furlough scheme, which has proven invaluable to so many businesses.
"As we enter the important September plate-change month with an ever-increasing range of electrified models and attractive deals, buyers in the market for the new 71-plate can be reassured manufacturers are doing all they can to ensure prompt deliveries."
Thinking of buying an electric, petrol or hybrid car? Read our buying guide to help you along the way…
Source: Read Full Article