New BMW XM super SUV set for 28 September reveal
As the first bespoke M car since the M1, the XM will arrive with brutish styling, 644bhp and over 50 miles of pure-electric range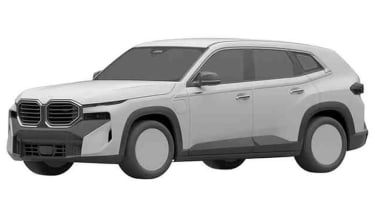 BMW's M division is gearing up for the launch of its first bespoke model since the M1 supercar of 1978, with a hulking hybrid-powered SUV called the XM. The firm has announced that the new flagship will be fully unveiled on 28 September, with BMW M boss Frank van Meel revealing some of the car's preliminary efficiency figures in an Instagram post.
Thanks to its plug-in hybrid system, the XM is aiming to achieve around 188mpg on the WLTP cycle, although we don't expect this figure to be attainable for most users in real-world scenarios. The car's CO2 emissions stand at just 33g/km, and BMW is targeting between 51 and 55 miles of electric range.
New BMW XM prototype review
Van Meel's post also includes images of a heavily-camouflaged XM undergoing testing, which reveal that the SUV will receive a pair of enormous illuminated kidney grilles. A series of previously released patent images provide a better look at the rest of the design, which draws clear inspiration from the Concept XM show car that debuted last year.
The production-spec XM gets a similar bluff nose, rising waistline and shallow glasshouse to the concept, but there are a few notable changes. The grilles – while huge – are now slightly smaller, and they're flanked by new dual-element headlights.
Elsewhere, the front bumper adopts a toned-down interpretation of the show car's V-shaped outer fins, and there's a charge port on the front wing for the hybrid system. BMW has already confirmed that 22-inch wheels will be fitted as standard, with 23-inch items available at additional cost.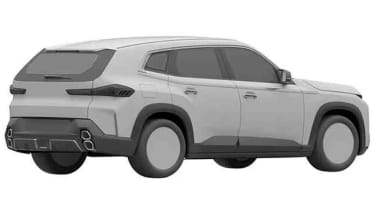 The rear end isn't quite as brash as the concept's, but similar design themes are at play with long, slender taillight units, stacked hexagonal exhaust tips and a cutout at the top of the rear window. The production car could feature a pair of BMW badges in the top corners of the window, evoking the M1 supercar.
The super SUV has been designed to celebrate 50 years of BMW's Motorsport division, as well as take on the likes of the Porsche Cayenne Turbo S E-Hybrid and Aston Martin DBX 707.
Like the Porsche, BMW's new SUV will feature plug-in hybrid power, which with 644bhp will be the firm's most potent ever. The new machine will be the first BMW since the M1 to be exclusively available in M guise.
Having driven the XM in prototype form, we can say the XM's interior design is more akin to BMW's internal combustion engined cars rather than the likes of the iX. It's a sportier cockpit layout with bucket seats from other M division cars. That said, expect to see BMW's latest wraparound TFT screen sitting on the dash.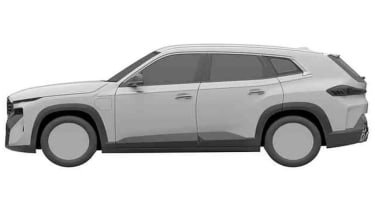 In the Concept XM we saw BMW's "M Lounge", contrasting sporty front seats with diamond-quilted velvet upholstery. There was also an illuminated sculptural headlining that, when lit, offers a three-dimensional form, with the ambient lighting possible in BMW's M colours.
The XM will be powered by a new 4.4-litre twin-turbo V8 engine, codenamed S68. It's mated to a 25kWh battery that powers an electric motor mounted inside the car's eight-speed automatic transmission, which sends power to all four wheels through BMW's M xDrive drivetrain.
Total output stands at 644bhp and 800Nm of torque, but the electric motor can deliver 194bhp on its own for up to 10 seconds (the rest of the time it packs a 161bhp punch) and 450Nm of torque. This figure is some way off the Concept XM's 739bhp and 1,000Nm of torque, but should be enough to rival the hottest SUVs on the market.
New BMW iX M60 2022 review
BMW has claimed that an all-electric zero-emissions range of up to 50 miles will be possible. For reference, its current large plug-in hybrid SUV, the X5 xDrive45e, offers up to 54 miles of claimed range from its 24kWh battery, which feeds a 111bhp electric motor. A 7.4kW on board charger is standard, so a full top-up will take less than three and a half hours. The brand hasn't confirmed efficiency data yet.
The XM will be fully unveiled on September 28 this year ahead of an expected launch date in March 2023. Prices for the sporty SUV could start from £120,000.
Now read our list of the best hybrid SUVs…
Source: Read Full Article