New BMW M8 Convertible 2020 review
The high-performance BMW M8 Convertible delivers searing pace and cruising comfort, but it comes at a cost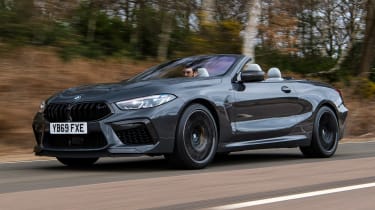 3.0 out of 5
Verdict
Capable though the £130,000 M8 Convertible is, it's a very hard car to justify. Straight-line performance is stunning and it corners well, but a Porsche 911 excites more. Build quality is faultless, too, but a Bentley Continental GT feels even more special. If you have your heart set on a big BMW drop-top, then the 840d is more relaxing to drive, looks just as good and costs a whopping £50k less.
Advertisement – Article continues below
When the original BMW 8 Series was released back in 1990, engineers gave serious thought to a hot M Sport version. A prototype was built – complete with a 550bhp 5.5-litre V12 – but it never made production. The same goes for an 8 Series Convertible; it was trialled, but it never reached showrooms.
Thirty years later, BMW hasn't so much dipped its toe in the water of the luxury convertible class with a drop-top 8 Series, but dived right in with a hot M8, too. But what makes BMW so sure it's the right product to be selling now?
Best convertibles and cabriolets 2020

Well for one thing, there's more of a business case. While the old 8 Series was developed as a unique project from the ground up, the latest version uses BMW's CLAR platform – which is found under models as widespread as the X7 SUV to the 3 Series saloon. The new 8 Series was always intended to be offered as a cabriolet, too, as well as a coupé and four-door Gran Coupé.

Then the performance boffins at BMW's M Division turned their attention to it. The standard 8 Series Convertible's design is beefed up with enlarged front intakes, side gills, quad tailpipes at the back and a set of 20-inch forged alloy wheels. It certainly has the aggressive looks for a buyer who wants to get noticed.

More reviews for 8 Series

In-depth reviews

Road tests

New BMW M850i xDrive Gran Coupe 2020 review
New BMW M8 2019 review
New BMW 8 Series Gran Coupe 2019 review
New BMW 8 Series Convertible 2019 review
BMW 8 Series vs Lexus LC
New BMW 8 Series 2019 review
New BMW 840d xDrive 2019 review

The standard convertible roof remains, and it takes just 15 seconds to open (at speeds of up to 31mph) to reveal a cabin which features carbon-fibre trim, a sportier gear selector than other 8 Series variants, and some great multi-adjustable seats with M8 logos in the head restraints.

There's also a bright red starter button on the centre console; press this and the car's 4.4-litre twin turbocharged V8 roars into life. Here in the UK, we only get the Competition variant of the M8. That means that as well as some extra front camber and stiffer engine mounts, we also get the V8 in its most potent form. 

It's shared with the M5 Competition, so we know it well, but familiarity doesn't take the shine off its phenomenal performance. Sending 616bhp and 750Nm of torque to all four wheels, this four-seat, open-top cruiser will smash its way from 0-62mph in just 3.3 seconds. That's 0.1 seconds slower than the coupé, but still enough to keep pace with all but the most serious supercars. Should you have the space, the relentless shove barely eases all the way up to the electronically limited top speed of 155mph – or 189mph if you spec the optional M Driver Package.

The M8 isn't without criticism, though. For such a bold car, the exhaust doesn't quite live up to expectations, for the most part delivering a sensible, rather muted note, even with the most vocal sports mode selected. BMW's own M235i is at least as noisy, for example, and certainly delivers a more antisocial crackle on the overrun.

The eight-speed gearbox occasionally gets left behind, too. When pottering around, it's silky smooth, but it can be jerky at slow speeds. Essentially there are two types of getaway from the traffic lights: snail's pace or drag race.

As with the exhaust, gearbox settings can be changed, along with the steering, throttle, brakes and suspension. These are selected via the iDrive menu on the car's touchscreen, or by a pair of bright red programmable 'M' toggle switches on the steering wheel.

Regardless of the suspension setting you choose, the M8 is sharper than the standard 8 Series through the turns. Grip and turn-in are remarkable for a car that weighs 2,085kg (125kg more than the M8 Coupé) and the steering is precise and quite quick, which does a great job of hiding that mass, at low speeds at least. There's not much communication from the front wheels, though, and with such high limits, this isn't a car that you'd want to really push anywhere other than on a circuit.

But is a two-tonne, four seat convertible really suited to the track? If you're spending this sort of money, then a Porsche 911 Cabriolet – which is sharper and more agile than the M8 – would be a more obvious choice. Or a Ferrari Portofino. Yes, both are a little firmer on the road, but not to the point of being tiresome. Neither are quite as adept as the M8 at doing lurid, tyre-smokey drifts, though: disabling the M8's stability control also disengages the front axle, so all 616bhp is sent to the back wheels.

Maybe the M8 is a car for cruising? It's very accomplished at that, too. In comfort mode, the M8 is relaxing, and on the motorway its stability is exceptional. Yet the Bentley Continental GTC is more comfortable and refined, is all but a match for the BMW in corners, and has a tiny bit more rear-seat space, too.

In terms of practicality, the traits of the standard 8 Series apply here. The M8's 350-litre boot is reasonable, but with the roof down there's only a small letterbox-sized opening for your luggage. In addition, the long, open cabin can get quite blustery at speed.

| | |
| --- | --- |
| Model: | BMW M8 Competition Convertible |
| Price: | £130,435 |
| Engine: | 4.4-litre V8 twin-turbo |
| Power/Torque: | 616bhp/750Nm |
| Transmission: | Eight-speed automatic, four-wheel drive  |
| 0-62mph: | 3.3 seconds |
| Top speed: | 155mph (limited) |
| Economy: | 25.2mpg |
| CO2: | 254g/km |
| On sale | Now |

Next Steps

Source: Read Full Article