New BMW M8 Competition 2023 review
The M8 Competition has received a mid-life update, but is it enough to take on the luxury sports car segment?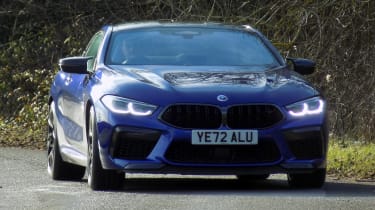 3.5 out of 5
Buy used for less at Buyacar
Verdict
The BMW M8 Competition is still an event to drive, but while it has all the potency and technical prowess you'd expect of an M car, it's lacking in terms of traditional sports car driver engagement. New infotainment upgrades and a smart cabin help it in the luxury grand tourer stakes.
2022 was a huge year for BMW M. In celebration of its 50th anniversary, there was an influx of new M-badged performance cars with the long-awaited M3 Touring, the polarising XM, a hardcore M4 CSL and a new M2. Sneaking rather quietly under the radar was a new version of the M8 Competition, BMW's range-topping luxury sports car. 
New BMW M3 Touring 2023 review

We've driven the new M8 (like the M3 and M4, the Competition is the only specification we get in the UK) before in four-door Gran Coupe form. It impressed us on a technical level, but the existence of the truly wonderful M5 Competition is always in the back of your mind when driving the more practical M8 bodystyle. 

The M8 Competition aims to fill a slightly different brief from the rest of BMW's lineup of M cars as a high performance luxury grand tourer and it just makes more sense in the sleeker two-door bodystyle. The big challenge is that a whopping £135,755 price tag, before options, brings with it high expectations. There are plenty of formidable rivals in the shape of the Aston Martin Vantage, Bentley Continental GT, Porsche 911 Turbo and even the upcoming, second-generation Mercedes-AMG GT. 

More reviews

Car group tests

BMW M8 Convertible vs Bentley Continental GT V8 Convertible

In-depth reviews

Road tests

New BMW M850i xDrive 2023 review
New BMW M8 Gran Coupe 2022 review
BMW M8 Competition Gran Coupe 2020 review
New BMW M8 Convertible 2020 review
New BMW M850i xDrive Gran Coupe 2020 review
New BMW 8 Series Gran Coupe 2019 review

As with most BMW models, the current 8 Series sits on the CLAR platform, which is a highly modular architecture underpinning cars the size of the 2 Series all the way up to the X7. A 4.4-litre, twin-turbocharged V8 sits under the long, loping bonnet, chucking out 616bhp and 750Nm of torque – the same specification as the M5. The four-wheel drive 'xDrive' system is also the same as you'll find in the M5 Competition and the overall weight of 1,979kg is 4kg heavier than the M5. 

But again, despite the similarities on paper to the M5, BMW markets the M8 as providing "sporty and luxurious driving pleasure, both on the road and on the racetrack". We'll ignore the £40,000 price gap to the more practical M5 for now and treat the M8 Competition as the luxury sports car it is designed to be.  

There's no denying the presence the M8 Competition has out on the road. The kidney grille design is less in-your-face than on other recent BMW M cars. This very mild mid-life update (or LCI 'Life Cycle Impulse' as BMW prefers to say) only affects the grille inserts, exterior colour choices, wheel designs, equipment levels and interior technology, so while it's a facelift in name, the car doesn't look far removed from its predecessor.

As you would expect with any modern M car, there's a host of different driving modes to tailor the M8's driving experience to your taste. The engine can be set to 'Efficient', 'Sport' or 'Sport Plus', as can the chassis (adaptive damping to you and me). The steering and brakes are a little more limited to just 'Comfort' and 'Sport' and the four-wheel drive system can be turned from its standard '4WD' mode to '4WD Sport' or even rear-wheel drive '2WD' mode (although to do this you need to turn the dynamic stability control off). 

In fairness to BMW, most of the driving modes have a noticeable effect on the way the M8 responds to inputs. That V8 feels a little punchier and the throttle feels a bit more immediate in Sport and Sport Plus. There's a distant rumble as well (with the sports exhaust activated), but we'd want an M car with this amount of power to properly shout about it. The noise is drowned out sometimes by the roar from the huge tyres at motorway speeds. 

All that power, but also the torque, is quite addictive in the way it's delivered right through the rev range. Although, if you're cruising in Sport Plus and you go for an overtake, it actually takes longer than in Efficient mode because the transmission wants to drop another gear or two first. There are more raucous shifts from eight-speed ZF automatic transmission in the sportier modes, it's a shame the manual paddles behind the steering wheel feel plasticky when you call for them. 

The M8 Competition's ride is simply too hard for a luxury grand tourer. The lesser M850i seems to settle much better over rough roads, despite the two sharing the same wheel and suspension setup. You wouldn't call it uncomfortable for a sports car, but thankfully we didn't have the carbon-backed bucket seats from the M3 and M4 because the M8's seats do absorb plenty of the jolts transmitted through the stiff suspension. 

Unfortunately this firm ride doesn't really translate into driver-focused dynamics either. Sure, there's an impressive lack of body roll but the sheer weight of the M8 always lurks at the back of your mind in the corners. Switch to two-wheel drive mode and the weight really becomes more of an issue. Getting the rear tyres to break loose is straightforward and they do so in a predictable fashion but gathering it all up again requires a little fight with the steering wheel – there's not quite the delicacy we've come to expect from the M division. 

The steering itself has a reassuring weight to it and if you leave the M8 in four-wheel drive mode, the front end helps deliver more than enough grip for the road. The two braking modes feel virtually identical to one another, which is fine because the overall brake feel is fantastic.

We've said BMW's M division has been busy with plenty of new models to mark its half-century, but it's taken the time to give the M8 a spruce up inside as well. The interior does share plenty of buttons and technology with much cheaper BMW models but overall it's a classy cabin with quality materials throughout. It's a bit of a shame the dual-screen set up from the BMW's all-electric cars (and even the new 3 Series) hasn't made it's way over to the updated M8, but the central infotainment screen has grown to 12.3 inches and works well, either from touch inputs or the rotary dial on the centre console. 

The counter-clockwise dials on the driver's display take a little time to get used to but there's also an excellent, clear head-up display which can be configured with different readouts. 

While the M8 is a four-seater, the rear seats aren't fit to accommodate adults. There are plenty of storage compartments dotted around the cabin, although heed our advice and avoid the long door bins if possible as phones and wallets have a habit to slide back into an inaccessible tunnel once you hit the throttle. The boot capacity sounds commodious enough at 420 litres but the opening is thin due to the rear window extending far back on the bootlid. Further impeding the car's practical credentials is the M8's thirst for petrol. We averaged a miserly 16mpg, a full 10mpg down on the M850i. 

We put aside the price tag earlier, but starting from £135,755, it's easy to spec the new M8 Competition to well over £150,000. Coupes with characterful V8 engines are becoming a rare breed these days and with an M badge on the boot (and most other panels) the M8 had a chance to really stand out. As it stands, the £109,615 M5 Competition is still made to look good value beside the M8.  

Now read about the best BMW M cars of all time…

Source: Read Full Article