New BMW iX2 announced for 2023 release
Second-generation X2 SUV to gain all-electric version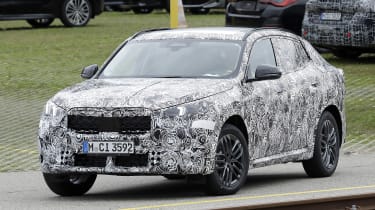 We only caught the upcoming iX2 testing for the first time at the beginning of this year, but BMW has now confirmed that its new small all-electric SUV will be revealed towards the end of 2023. 
During BMW's annual conference, CEO Oliver Zipse briefly mentioned the iX2 and the firm's plan to unveil it this year. The car will be based on the new X2, which we've also spotted testing and should be revealed alongside the all-electric alternative. 
New BMW i5 Touring estate model confirmed
Our first look at the BMW iX2 indicated it will take on plenty of design details from the next X2 – which, as a sporty coupe-SUV version of the X1, will sit closer to its recently unveiled sibling than the outgoing X2 did to the contemporary X1. We can also be fairly sure about plenty of technical details, because the iX2 will carry over parts from the new iX1. 
Our spy photographers have spotted the iX2 being put through its paces during cold-weather testing. And its overall shape – and indeed the shape of the next X2, which we've already spied in prototype form – will be more akin to a smaller X4 coupe-SUV rather than a lifted hatchback.
In contrast to the outgoing X2, the front of the new iX2 will borrow the design from the X1 with similarly shaped grilles and headlights. For this all-electric version we can see the traditional BMW kidney grilles have been blanked out. The winter tyres and alloy wheels are purely for testing and won't make it to the final production car.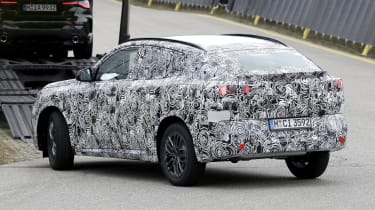 The roofline is a clear coupe-SUV shape, dropping away behind the rear pillar for a more rakish look. The rear lights are still covered in camouflage, but we should see something similar to the X1's light clusters. 
Underneath the new iX2 will be the same UKL2 architecture that underpins the iX1. This means we should see a 64.7kWh battery allowing for 308bhp and 494Nm of torque. A 0-62mph time of around 5.7 seconds and a top speed of 112mph should be expected. 
The new car's range is likely to differ slightly from the iX1's maximum of 272 miles. And given that the iX2 could have a more aerodynamically efficient body, we may see this number rise in the new EV. What is likely to stay the same is charging time, with a rate of up to 130kW meaning a 10 to 80 per cent top-up in 29 minutes.
The crossover of technology between the iX1 and iX2 will be evident inside, where we should see the iX1's 10.25-inch infotainment screen and a 10.7-inch digital dash, featuring BMW's latest OS 8.5 software. But the X2 will have a smaller boot capacity than the X1's 540 litres, thanks to that sloping roofline. 
Now read our review of the all-electric BMW iX1…
Source: Read Full Article