New BMW iX M60 2022 review
The range-topping BMW iX M60 is as close as the brand has yet come to an electric M car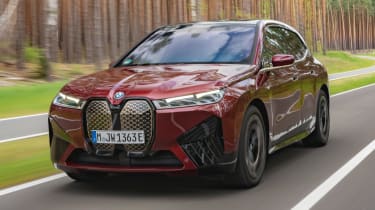 4.0 out of 5
Verdict
BMW has yet to make an all-electric M car, but it's an inevitability and one we're fascinated to see unfold – especially after driving this new iX M60. It's an expensive option and the range isn't class-leading, but given the mix of blistering pace, comfort, technology and a showstopping interior, there's no doubt that BMW has a position near the top of the all-electric luxury SUV segment.
BMW revealed in 2017 that it plans to make all-electric M cars. We've still yet to see one, although last year's i4 M50 gave us a good indication of what to expect. Now there's the iX M60. It also bears the M division's logo, just like the i4 M50, and has been tweaked by BMW's sporting arm, but this is not a full-blown M car.
Just like the iX xDrive50, the M60 uses a 105.2kWh battery. With 195kW charging capability, it'll take 39 minutes for a 10-80 per cent top-up – or 11 hours from a home socket. What BMW's M division has done is to release more power from the electric motors – 611bhp, in fact – along with a ridiculous 1,100Nm of torque.
BMW iX vs Audi e-tron Sportback: 2022 group test review

With four-wheel drive, the iX M60 can sprint from 0-62mph in 3.8 seconds and it feels mind-bogglingly fast for a big SUV. Off-the-line speed is the M60's real party piece (especially with launch mode engaged), but where we've come to expect electric cars to tail off, at motorway speeds, the iX M60 just keeps on pushing.

Throttle response is immediate and the swell of torque available means overtaking is no issue. However, if you regularly tap into the immense power, then the claimed 348-mile range (down 32 miles on the xDrive50) will be an impossible target to achieve. Yet there's more to the M60 than just speed. In a car weighing 2.6 tonnes, even the M division had its work cut out to give the iX M60 a sporting edge. But air suspension is a big help here, because the M60 has two driving modes: Efficiency and Sport.

Choose the latter and the dampers stiffen up and you get the sense it's ready to handle the monstrous power. There's also some augmented drivetrain noise channelled into the cabin through a Bowers & Wilkins sound system as part of the M60's M Sport sound. It aims to give the driver a slightly greater sense of involvement, but it's easily switched off.

In long, sweeping corners the M60 shows tremendous grip and not too much body roll. But find some tighter corners that require more abrupt steering inputs, and the suspension isn't quite able to keep up. The steering is fairly light but quick, and the chassis is composed enough to instil plenty of confidence.

Switch the M60 into Efficiency and the air suspension softens – although you wouldn't call Sport mode overly harsh. In fact, we'd like a bit more separation between the two settings, given that the M60 is the fastest iteration of the iX.

In any mode, the iX has a tendency to squat under hard acceleration, such is the softness of the set-up and the car's weight. But the comfort on offer is excellent, even on the new 21-inch M Sport wheels. The seats also look quite flat at first, but they're softly padded and surprisingly supportive.

The interior isn't exactly conventional, but it is full of character and quality, and it feels remarkably airy. A standard-fit, full-length 'Sky Lounge' panoramic roof lets in plenty of light, and visibility is good. With a fully flat floor in the front, there's a huge amount of legroom for passengers, and it's superbly roomy in the rear, too.

The iX M60's boot remains at just 500 litres, however, which is on the small side for a big car; the similarly sized X5 SUV delivers 650 litres in non-hybrid form.

BMW's OS 8 infotainment system, which appeared for the first time on the iX, remains for the M60, with a stylish, single curved panel on the dashboard. That's a good thing, because the 14.9-inch central touchscreen has crisp graphics and the menus are intuitive.

At £111,905, the iX M60 is £15,000 more than the xDrive50 and a whopping £39,000 more than the entry-level xDrive40. There's not much between the two models in terms of interior tech and quality, so you'll have to really want the extra pace to choose this range-topper.

| | |
| --- | --- |
| Model: | BMW iX M60 |
| Price: | £111,905 |
| Powertrain: | 105kWh batt/2x e-motors |
| Power/torque: | 611bhp/1,100Nm |
| Transmission: | Single-speed automatic, four-wheel drive |
| 0-62mph: | 3.8 seconds |
| Top speed: | 155mph |
| Range: | 348 miles |
| Charging: | 195kW (10-80% 39mins) |
| On sale: | July |

Source: Read Full Article