New Aston Martin Vantage F1 Edition brings racetrack performance to the road
The new Aston Martin Vantage F1 Edition gets a power boost and uprated aerodynamic and chassis packages inspired by F1's latest safety car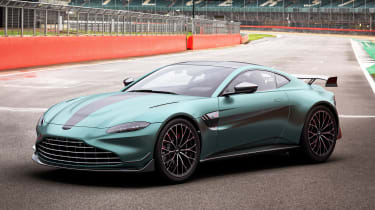 Celebrating its return to Formula One after more than 60 years away from the sport, Aston Martin has released its Vantage F1 Edition, the most track-focused version of the brand's sports car yet.
Available as a Coupe and a Roadster, the F1 Edition sits at the top of the Vantage line-up and has had direct input from the brand's new Chief Executive Officer, Tobias Moers.
New Aston Martin Vantage AMR 2019 review
The car is the result of Aston's new association with Formula One and the engineering that went into the development of the Vantage as the sport's new safety car for this season. 
As a result, the F1 Edition features more power, as well as some chassis and aerodynamic enhancements to further improve the car's ability and lower lap times – the latter a key target for the project – but without compromising the car's on-road capability.
Aston Martin Vantage F1 Edition: engines, power and performance
The Mercedes-AMG-sourced 4.0-litre twin-turbo V8's output has been increased by 25bhp, to 528bhp. Peak torque remains at 685Nm, but that maximum force is now available over a wider rev range compared with the standard Vantage to increase the engine's flexibility.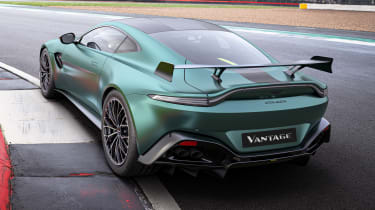 To make the most of the power unit's increased performance Aston has also tweaked the car's eight-speed automatic gearbox, with what it calls "an optimised torque cut during upshifts that reduces shift times and increases the feeling of directness and precision." It's no surprise given the car's name and nature that Aston claims these improvements are especially beneficial when driving on the track.
The 0-60mph times stand at 3.5 seconds for the Coupe and 3.6 seconds for the Roadster, with respective top speeds of 195mph and 190mph. If it matters to you, efficiency stands at 24.3mpg combined for both models; the Coupe emits 264g/km CO2, while the Roadster's emissions stand at 263g/km.
Aston Martin Vantage F1 Edition: improved chassis
Chassis rigidity has been improved at the front to improve steering feel and response, while this has been teamed with stiffer rear springs and more lateral stiffness to help sharpen turn-in further, as well as boost traction – especially over bumps – and ensure the rear end is tuned to balance the extra precision at the front. 
Changes to the suspension have focused on reworked damper settings to increase the suspension's breadth of ability and vertical body control. Aston claims that the car's damping through high-speed compressions and over crests is improved without harming the Vantage's low-speed ride comfort.
Moers was keen for the F1 Edition's performance increase to come without the adoption of aggressive, track-optimised tyres, although the car wears Pirelli rubber developed especially for the model, which features 21-inch wheels with a new design – up from 20 inches on the standard Vantage models.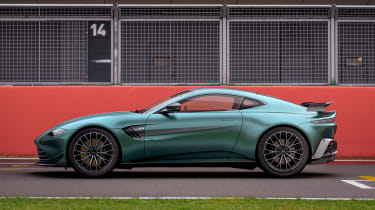 The lower profile tyre is said to combine with the structural and steering improvements to provide greater driver feedback.
Finally, there's a new aero kit – comprising a full-width front splitter, front dive planes, underbody turning vanes and a new rear wing – that produces 200kg more total downforce at top speed compared with the regular car.
Carbon ceramic brakes are available as an option, but only on the Coupe.
Aston Martin Vantage F1 Edition: design
The F1 Edition is offered with a more limited choice of colours, including Aston Martin Racing Green to celebrate the brand's return to Formula One. It's the same colour as the Vantage F1 safety car, as well as Aston's 2021 racer.
Paint colours are available in either gloss or satin finishes, with other colour choices including Jet Black and Lunar White. All body colours coming with matte grey racing graphics.
Inside, the F1 Edition's cabin is trimmed in black leather and grey Alcantara, with a choice of lime green, black, grey or red contrasting stitching.
The Vantage's new vaned grille sets it apart from the regular car, along with carbon fibre exterior detailing and unique graphics.
Aston Martin Chief Executive Officer, Tobias Moers said: "Performance is at the heart of every Aston Martin, but when it wears an F1 badge it has to be a truly exceptional car.  
"Vantage was already the most focused sports car in our range but in the development of our Official Safety Car of Formula 1, it had to be a true athlete: more powerful; more agile; more immediate and more exciting to drive.  And – of course – quicker and more capable in a race-track environment.  
"I set the engineering team a tough target, as I was insistent that gains in performance came via genuine improvements in the car's dynamics, and not by fitting track-optimised tyres. The results speak for themselves. A Vantage to appeal to the most discerning drivers and a new model that marks an exciting moment in Aston Martin's history."
Aston Martin Vantage F1 Edition: pricing and on-sale date
The new Vantage F1 Edition is on sale now in Coupe and Roadster guise, priced from £142,000. Deliveries begin in May.
Now click here for our in-depth review of the Aston Martin Vantage…
Source: Read Full Article