New 2024 Ford Mustang Mach-E Rally designed for off-road fun
Ford says the Mustang Mach-E Rally will be available to order early next year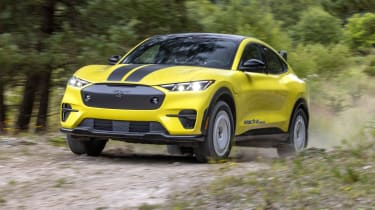 Ford gave its engineers free rein with its Mustang Mach-E and they've come up with the hardcore 'Rally' variant. The Ford Mustang Mach-E Rally made its dynamic debut at the Goodwood Festival of Speed a few months ago, but now we have more specifications on the wild all-electric rally car. 
The Mustang Mach-E might not be the first car you think of when someone says 'rally' but that's not stopped Ford giving its electric SUV some serious off-road potential. The Mach-E Rally certainly looks like it would be at home on a rally special stage. There's a new front bumper with an integrated splitter, a tow hook and additional fog lights in the closed-off grille. 
A new spoiler has sprouted on the rear which has taken inspiration from the Focus RS, plus there's upper and lower body mouldings to protect against rocks, trees and whatever else litters a typical rally stage. The Mach-E Rally also comes with two racing stripes, 'Mach-E Rally' decals and a selection of colours including Grabber Blue, Shadow Black, Eruption Green, Grabber Yellow, Star White and Glacier Grey.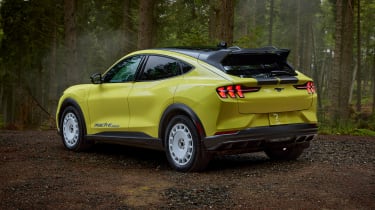 The Mach-E Rally is based on the current range-topping all-wheel drive Mustang Mach-E GT. As such, it gains that car's 91kWh battery powering two electric motors for 487bhp and 880Nm of torque. Performance numbers haven't been revealed but we expect it to be slightly slower than the GT's 3.7-second 0-62mph time given the Rally's off-road focus. 
To help achieve its rallying goals, the Mach-E Rally sports a unique suspension system with new shocks and springs that raise the ride height by 20mm over the Mach-E GT. The GT's big Brembo brakes are carried over to the Rally. 
To make sure the Rally's power can be put down on the rough stuff, Ford has added off-road tyres with more sidewell to promote grip. They're wrapped around some rally-style white alloy wheels.
Ford's development of the Mach-E Rally also included setting up a new driving mode. 'RallySport Drive Mode 6' is designed specifically for off-road use to "allow for bigger slides" according to Ford. Ford performance seats and white trim detailing can be found in the cabin, plus the huge 15.5-inch portrait screen on the dash is retained from the GT. 
Customers will be able to order the Mach-E Rally at the beginning of 2024 and first deliveries should arrive shortly after that. 
Now check out the fastest electric cars in the world…
Source: Read Full Article