New 2024 Fiat Panda: EV power for retro-themed supermini
Fiat has given us a new look at the Panda's successor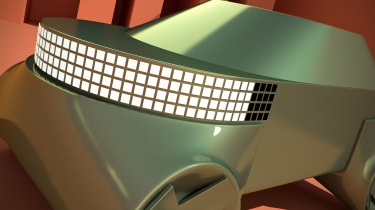 The current third-generation Panda has been around since 2011 but it's set to be replaced with a new all-electric car – and Fiat has given us a fresh glimpse of how its cabin may look. 
A new interior design has been revealed by the Italian brand, which is just a concept for now, but it's tipped to form the ethos of the Panda's replacement. 
As part of the Italian company's centenary celebration for its famous Lingotto factory, a video anticipates some details of cars that Fiat says will enter the market from 2024. The rounded dash and centre console certainly mimic the roof of the Lingotto, which doubled up as a testing facility for Fiats.
Fiat 500 review
Elsewhere, we can see speakers integrated into the headrests and even the steering wheel has taken on the rounded look of the test track. There's also an image of the car's exterior, which reveals a bluff front end with a wraparound lightbar made up of dozens of LEDs. 
We're not certain which element of these concept images will make it to production, although it's clear that Fiat wants to retain much of the cheerful styling its family cars have become known for. The all-electric Panda replacement is expected to arrive in 2024, joining an all-electric 500 and the upcoming 600 in the Fiat line-up, and helping to kickstart a major recovery by the Italian manufacturer in some of the family-car market sectors that it helped to invent.
In terms of exterior design, we should see a limited range of colours but personalisation through optional wraps, and chunky plastic rubbing strips to protect against urban scrapes, are likely to be retained. Our images here show how the vehicle could be translated into production.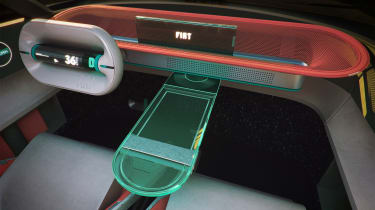 Speaking exclusively to Auto Express, Olivier François, CEO of Fiat, declared his intention with the Panda back in 2020: "There will be a future for Panda as a name plate," he said. "That's why I pitched the latest 500 initially as a convertible: high-end, full of options and 30,000 Euros. Because the day I introduce the future Panda, I'll probably do the opposite. I'll introduce the most naked version with an incredible price.
"So yes, I badly want a future for the Panda, because I think this is what makes Fiat so unique. There is no Fiat as a whole if you don't have a Panda and a 500."
Fiat will likely utilise the e-CMP architecture developed by parent company Stellantis to underpin the new Panda. We've already seen this platform used on similarly-sized models such as the Peugeot e-208 and the Vauxhall Corsa Electric – allowing for a range of around 220 miles. Although François has previously said that the approach to the Mk4 Panda model will be so cost-focused that it may need to have a conventionally powered petrol version. 
"The idea is to have a full electric vehicle at the price of a combustion-engined car," he said. "If we can do that, it's totally true to the Panda's mission. If we can't, we'll probably need an internal-combustion engine (ICE) – maybe a mild hybrid – and a full electric. That EV can still be democratic but okay, at an attractive price for an electric car – maybe just not at the price I was envisioning. We're working on that. It's not easy."
Click here for our list of top 10 superminis to buy…
Source: Read Full Article