New 2023 Hyundai Tucson facelift spied with fresh face
Hyundai's impressive midsize family SUV is just about due for a light nip and tuck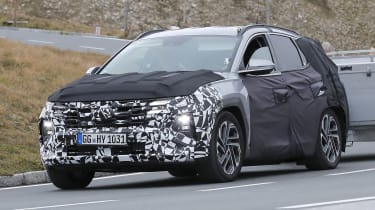 A mid-life update is being readied for the popular Hyundai Tucson SUV. And, with life for the Tucson about to get more difficult with the arrival of the new Volkswagen Tiguan and Peugeot E-3008, it's a good thing Hyundai's not resting on its laurels. 
From our spy images, we can see that the new Tucson will have a lightly refreshed face featuring new LED lights and a slightly re-shaped grille. While a major aesthetic change isn't expected, it will potentially draw inspiration from the US-market Hyundai Santa Cruz, while also aligning its design more closely with the all-new Kona. 
Top 10 best SUVs to buy 2023
What is clear is that the Tucson will retain its existing design language, rather than adopt the blocky and more utilitarian look of the latest Santa Fe.
This prototype also hides a new wheel design, but while the main body isn't expected to adopt too many changes, there will almost certainly be a new rear bumper design to go along with the existing rear light clusters.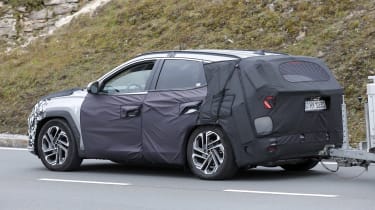 The interior will also pick up a refresh, with revised materials and trim as well as the latest versions of Hyundai's digital interfaces. It's not known at this stage whether the interior will adopt a single-pane dual-screen setup like the Kona and Ioniq models, but such a move would require a wholesale redesign of the entire dash layout, so may not be on the cards. 
The Tucson's range of powertrains will still focus on hybridisation, with mild, full and plug-in options likely to be improved and expanded upon. As before, both front- and all-wheel drive will be offered, creating a comprehensive spread of specification and powertrain options for buyers. 
The new Tucson is expected to be revealed either later this year or early in 2024, with sales starting soon after – just in time to welcome its slick new competitors to the market.  
Click here for our list of the best mid-size SUVs to buy right now…
Source: Read Full Article