New 2023 GTO Engineering Squalo set to produce 460bhp
GTO Engineering has released some performance specs on its newly developed 4.0-litre quad-cam V12 engine


GTO Engineering has confirmed some specifications on its freshly designed V12 engine, which will soon slot under the bonnet of its Ferrari 250 GTO-inspired Squalo sports car.
The naturally aspirated 4.0-litre V12 engine has quad cams and will rev to 10,000rpm. GTO Engineering is also targeting an output of 460bhp and a total weight of less than 165kg – or, more than 10kg less than the original 250 GTO's unit.
Best V12 engined cars
Like the engine in the classic Ferrari racer, GTO Engineering's V12 will have carburetors rather than modern fuel injection, and it'll be mated to a manual gearbox. However, the unit will sit lower down and further back in the Squalo's chassis than it did in the 250 GTO, for better weight distribution. The company is targeting a 55/45 split across the axles, and has pledged that the finished car will tip the scales at less than 1,000kg.
Despite the similarities to the 4.0-litre V12 engine in the Ferrari 250 GTO, GTO Engineering's Managing Director and Founder, Mark Lyon, is quick to dismiss any claims that his company's engine is nothing more than a quick rehash of the original Ferrari unit.
"People often ask us what the similarities are between Squalo and any 250-series car, and it's easier to say this: there are none. There aren't any parts that are shared between the two [Squalo and any 250-series model], and one key case study for that is the engine.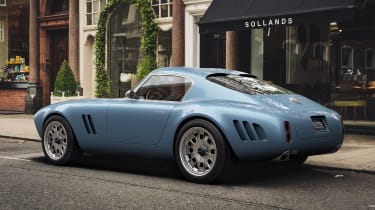 "We know most V12 Ferraris inside out, and recently weighed a 1960 4.0-litre V12 engine; it was 176kg as a complete unit with the starter motor, oil and oil filler tubes too. That's so much lighter than a modern V12, and we know we can do even better with our knowledge as well as modern advancements and techniques. 
"Every part and configuration on our quad-cam V12 has had a complete engineering re-focus to ensure our engine for Squalo is the very best it can be."
GTO Engineering Squalo: design
Founded in 1991 as a specialist Ferrari restorer and servicer, it should come as no surprise that GTO Engineering's first attempt at a car draws heavy design inspiration from what's arguably the most iconic Ferrari of all time – the 1962 250 GTO.
Although it looks like an extensive restomod, GTO Engineering stresses that the Squalo is all-new from the ground up. Along with the all-new engine, the company's design department recently signed off the car's bespoke bodywork, meaning all the elements you can see in the firm's official images will make their way onto the production car.
The triple bonnet vents, quad-exit exhaust system and aggressive vents in the quarter panels are all clear nods to the project's muse. However, they've been augmented with a few modern touches, such as LED headlamps and fresh 18-inch alloy wheels, which have been styled to look like a set of period racing steelies.
Lyon said: "There's been an outpour of admiration for what we're doing here and we realise a little bit of scepticism whether we're actually making this: a V12-powered, sub-tonne sports car with a Sixties feel but modern reliability, enjoyment and manufacturing quality. 
"We're here to hopefully set the record straight to say yes, it's happening and we're sticking to our original ethos for the car as well as timing promises for production. We are also delighted to have early adopters and customer orders received already, and we thank them for the trust in our vision and business."
"It's often the small parts of a car that take the longest time. We're now at a stage where the design models are being created here in the UK and soon we will announce our technical partners working with us on the exterior manufacturing and interiors, as well as wheels and tyres. In all my years working in the [automotive] industry, I've never been as excited about the creativity of manufacturing and design as I am now."
GTO Engineering has been taking orders for the Squalo for the past few months, with the first customer deliveries scheduled for 2023. A final price for the car is yet to be confirmed, although it should be significantly cheaper than buying an original Ferrari 250 GTO. An example that went to auction back in 2018 changed hands for an eye-watering £52 million.
Check out our list of the greatest Ferrari's ever here…
Source: Read Full Article