New 2023 Ford electric SUV spied again
Ford is expanding its all-electric range of cars with a mid-size SUV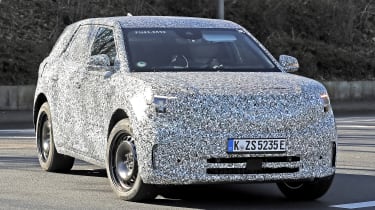 This is our best look yet at Ford's new all-electric SUV, which should make its full debut soon. This test car is still wearing heavy camouflage but we can spot some key design details of the upcoming Ford EV.
In terms of size it'll be similar to the Volkswagen ID.4 – with good reason too, because this electric SUV from Ford will utilise the ID.4's MEB platform. The technology sharing is a result of a deal between the two brands which extends to several more EVs and electrified commercial vehicles. The MEB architecture can currently accommodate a battery up to 77kWh, and Ford says that its new model will be capable of travelling 311 miles on a full charge. The platform can also be used for both rear and four-wheel drive configurations, with outputs between 146bhp and 295bhp for the most powerful all-wheel drive models.
New Ford Puma EV on the way for 2024
Ford's signature grille will feature here, as it has on its first bespoke EV, the Mustang Mach-E. It'll be blanked off for aerodynamic efficiency, but below we can see a small intake for cooling and side air vents to reduce drag. The overall front of the car is fairly upright for an aggressive profile and the headlight should come with some distinctive LEDs. 
The side profile looks fairly similar to the ID.4s, even the window line ascends over the rear door handle, just like on the VW. The rear of This new EV will feature chunky tail-light units and a tailgate spoiler. The solid look will be reinforced by bold surfaces, which we'll get to see when the covers come off as, potentially as early as March.
We've not seen inside the new Ford electric SUV, but we expect the firm to use its own in-house technology and the latest SYNC4A infotainment system on potentially the Mach-E's 15.5-inch vertical touchscreen.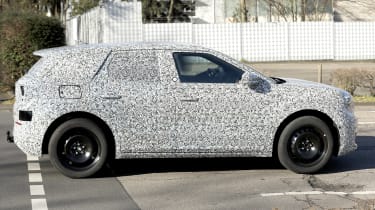 This new car will be the first model from Ford's new line-up of electric cars in Europe after the brand revealed a new 'start-up' business unit called Ford Model e, which will deliver three new electric SUVs by 2024. Along with the new model pictured, the agreement Ford signed with Volkswagen Group to secure access to VW's MEB platform for electric cars will extend to two of these models – a five-seat, mid-size SUV (the car our spy photographers have caught testing) and a sportier crossover. 
These will be built at the firm's Cologne factory, which is currently undergoing a £1.5billion transformation from being the home of the outgoing Fiesta supermini to an electric car factory with an on-site battery assembly plant. The other new EV will be an electric version of the Puma crossover.
The second electric model from Cologne will arrive in 2024, described by the brand as a 'sports crossover', which it previously teased with another new lighting signature. Like the Volkswagen ID.5, it will likely be positioned as a sleeker version of its SUV relative. And despite the shared underpinnings, former Ford of Europe boss Stuart Rowley previously told Auto Express that he is confident these new SUVs will separate themselves from Volkswagen's offerings out on the road: "Let me assure you, these products will absolutely look and drive like Fords."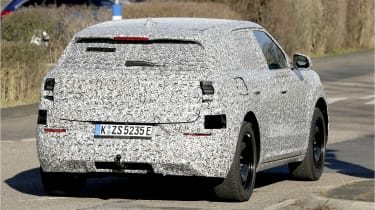 Following these two purpose-made EVs will be an electric version of the brand's big-selling Puma crossover. It will be built in Romania, with production capacity made available in the absence of the soon-to-be-axed EcoSport crossover. No technical details have been confirmed, but to rival the likes of the Peugeot e-2008 a range of more than 200 miles will be necessary. 
Alongside its electric passenger car announcement last year, Ford also confirmed that four new-generation electric commercial vehicles will be available in Europe by 2024.
Now read our in-depth review of the Ford Mustang Mach-E…
Source: Read Full Article