New 2022 Volvo XC90 replacement could be called Embla
Embla will break with Volvo's numerical naming system for SUV that will signal the start of a new era for Swedish marque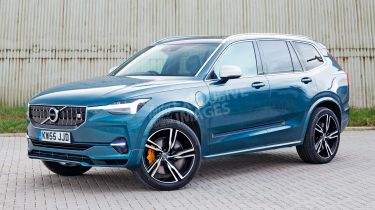 Volvo's next-generation, all-electric replacement for the XC90 could be given the name Embla, according to new trademark applications made by the Swedish brand.
"This will be the first of its kind. We should also then mark that by deviating from our normal way of giving our cars names," said outgoing Volvo boss Hakan Samuelsson at the unveiling of the Concept Recharge last year – a Volvo concept described by the brand as a 'manifesto' of its future models and a preview of its new SUV.
Cupra Born vs Mercedes EQA vs Volvo C40 Recharge: 2021 group test review
The overhaul of Volvo's rival to the Land Rover Discovery will be made possible using the SPA2 platform that will allow the brand's biggest SUV to be electrified from the start. The Recharge Concept uses Volvo's new SPA2 platform, which is scalable for cars ranging from the S60 to the XC90 in size. The layout is Volvo's first to have an entirely flat floor with the battery underneath.
As such, there will be no pure petrol or diesel-powered versions of Volvo's next big SUV. Indeed, by 2025 Volvo wants 50 per cent of its sales to be of fully electric models.
Speaking about the new large SUV, Samuelsson told Auto Express in 2020: "This car [next XC90] will be fully electric and built in South Carolina."
One of the core advancements of the Embla will be its autonomous driving system that will use next-generation sensors, lidars and cameras. "Our product will never be a robo-taxi," Samuelsson said, adding: "It will be a premium car with a very advanced cruise control system, which you could call highway pilot."
Asked how much such technology would add to the cost of the XC90, Samuelsson added: "What would you be willing to pay for a functionality, an autopilot, that can enable the car to turn into an office? $10,000 or $15,000? It's about customer value. Polished alloy wheels can cost $5,000 so around $10,000 is probably not unrealistic for such a feature."
The Embla is expected to arrive this year, with design influence straddling between the conventional looks of a large SUV and the design previewed by last year's Concept Recharge. The car will feature more design elements consistent with electrification, such as a new 'Volvo shield' in place of the traditional grille, plus new proportions and placement of the wheels far into the corners of the car, to maximise interior space.
A new-generation interior will be a part of the package. As per the Concept Recharge, the car will still use a central touchscreen with portrait orientation, but will be integrated into a much more minimalist environment. The 15-inch central display will run a new-generation software called VolvoCars.OS, and will sit on a floating style dashboard; the pure electric powertrain and underfloor batteries make a central tunnel unnecessary, opening up further space in the car.
"We have embraced Scandinavian design principles of creating visually clean and harmonised design. And because of the flat floor, we have even more space," explained Volvo design boss Robin Page at the unveiling of the Recharge concept car.
Read our in-depth review of the current Volvo XC90 SUV right here…
Source: Read Full Article