New 2022 Porsche 911 GT3 RS spied at the Nurburgring with huge rear wing
New Porsche 911 GT3 RS could pack active aero and over 520bhp when it arrives next year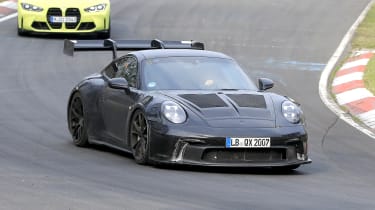 Porsche will waste no time in following up the new 992-generation 911 GT3 with an even more hardcore GT3 RS version, if these brand new spy shots are anything to go by. 
Caught on camera undergoing gruelling development at the Nurburgring, this prototype 911 appears to be a test car for the next GT3 RS, which will break cover towards the end of 2021 and will go on sale next year. 
Secret Porsche concept cars uncovered for the first time
Even this early prototype showcases several large-scale aerodynamic and chassis alterations being prepared for the more track focused RS version of the GT3, the most obvious of which is the adoption of a huge new rear wing with racing car-inspired swan neck mounts (as per its standard sibling) making it appear similar in size to that seen on prototype versions of the next 911 GT3 R racer. 
Not only is the rear wing's size an important marker of the new GT3 RS's performance intent, it's also a showcase of what Porsche's engineers can bring to the table free from competition rules. The wing is likely to incorporate an active element, opening like the DRS system used on Formula One cars to reduce drag on straights, closing in corners to produce maximum downforce. 
Other changes on this prototype include a new front splitter and front wheel arches covering a wider axle track, plus hints of the 991-generation GT3 RS's front wheel arch ventilation slats. At the back, the car features an extended rear diffuser, with a rear apron that juts out to create a slightly larger overhang, while the exhausts still features central tailpipes.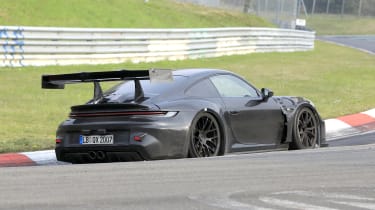 It will take forward the standard GT3's naturally aspirated 4.0-litre flat-six engine, but power is expected to increase marginally as per other GT3s and their RS cousins. The standard car is rated at 503bhp.
Generally, the GT3 RS has packed around 20bhp more than its regular GT3 sibling since power differentiation was introduced between the pair with the 997.2 generation models. As such, a natural position for the new RS to take up would be an output of between 520 and 530bhp, while drive will be sent to the rear axle via a seven-speed PDK automatic transmission. 
While the standard GT3 is available with a manual transmission, it's not yet known if Porsche will extend this to the circuit-biased RS. In the recent past GT3 RS models have been PDK-only in the pursuit of laptime performance. 
Prices could start from around £150,000, placing enough distance between itself and the £123,100 GT3.
Check out the best track day cars to buy now…
Source: Read Full Article