New 2022 BMW 8 Series X Jeff Koons is limited edition BMW Art Car
More than 200 hours are sunk into to the BMW 8 Series X Jeff Koons' paintwork alone, and the brand plans to sell 99 examples of the rolling art piece to the public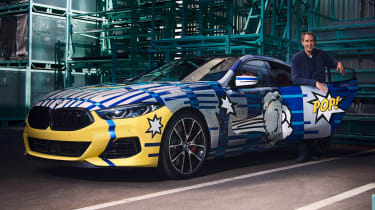 BMW has pulled the sheets off its newest piece of rolling artwork: the 8 Series X Jeff Koons. As the badge suggests, it's a special version of the 8 Series born from a partnership with American artist Jeff Koons, best known for his creative depictions of everyday objects. His most famous (and most expensive) works are the sculptures "Rabbit" and "Balloon Dog."
The firm's Art Car tradition stretches back almost half a century to 1975, when the company's then motorsport boss commissioned Alexander Calder to design the livery for the brand's race-prepped 3.0 CSL. Koons himself has created an official Art Car in the past, in the form of the M3 GT2 entered by BMW Motorsport in the 2010 Le Mans 24 hours. The Koons 8 Series isn't really an Art Car project though, as 99 will be produced and sold as road-cars.
New 2024 BMW M5 spied testing with hybrid power
For this tie-in Koons has created a Pop Art inspired livery for the 8 Series Gran Coupe. BMW says it's the most "elaborately designed vehicle" produced throughout its 106-year history – not least because the exterior is complemented by an entirely retrimmed cabin.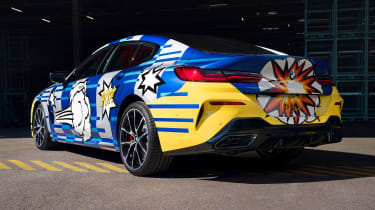 BMW is also keen to point out that it takes more than 200 hours to apply the paint finish. So, even if the firm's paintshop is working flat-out, it can only finish four cars each week.
Following the same conventions as the comic-strip-inspired exterior, the cabin is trimmed in a Spiderman-esque blend of red and blue leather upholstery. Jeff Koons has also dotted his signature around the cabin, with plaques hiding in the cupholder and on the dust jacket for the owner's manual in the glovebox. Each vehicle will be supplied with a large certificate of authenticity signed by Koons and BMW boss Oliver Zipse.
Beneath the artistic makeover is a regular BMW 850i xDrive Gran Coupe. No mechanical changes have been made, meaning the art car is powered by the a twin-turbocharged 4.4-litre V8 engine developing 522bhp and 750Nm of torque. Power is sent to all four wheels via an eight-speed automatic gearbox, and 0-62mph is dealt with in less than four seconds.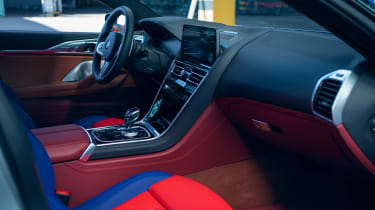 BMW hasn't yet released a price for its new 8 Series X Jeff Koons, but given Koons's sculpture "Rabbit" sold for more than $91 million (around £67 million) the last time it passed over the auction block in 2019, it'll be anything but cheap. The first example will be auctioned in April year at Christie's in New York, before the other 98 are sold directly by BMW with a price upon application.
Koons commented on his work, saying: "My edition of the BMW 8 Series is my dream car! It is very special to me and I've wanted to create a special edition BMW for a long time. It is sporty and flashy as well as minimalist and conceptual. I can't wait to drive it and ride in it, and I hope that people will enjoy the Gran Coupe just as much as I do.
"On the car, the lines are getting bigger on their journey from the hood towards the trunk, creating a sense of forward movement just as the 'POP!' and the vapour thrust design elements do. The blue colour resembles the vastness of space and I like the idea of the car being a global car."
Now click here to check BMW's previous art car – a specially commissioned version of the M6 GTLM by John Baldessari…
Source: Read Full Article