New 2021 Nissan Qashqai confirmed with e-Power hybrid system
Next-generation Nissan Qashqai revealed in official spy shots, while diesel has been ditched for hybrid power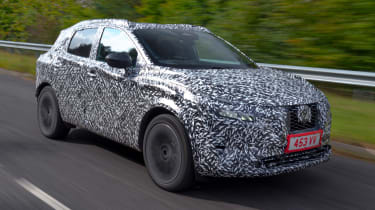 It has been confirmed that the next-generation Nissan Qashqai will be revealed early in 2021 before going on sale in Europe next summer, equipped with hybrid power for the very first time.
Few cars have made such an impact on a manufacturer's fortune than the Qashqai has for Nissan. Since launch in 2007 the brand has sold over three million across Europe, and even last year the ageing second-generation model still pulled in significant numbers for Nissan, with 235,000 sold across the continent.
Best small SUVs and crossovers on sale 2020
It's also a hugely important car for the UK automotive industry. The Qashqai has been built at Nissan's Sunderland plant since the model's introduction, and is the most produced car in Britain – no other model is built in greater numbers here. This third-generation car will be built in Sunderland too, as part of a £400 million investment in the factory.
But that's not just the only UK angle – the new Qashqai has been designed by Nissan Design Europe, based in London, while development is taking place at Nissan's Technical Centre for Europe in Bedfordshire.
New Nissan Qashqai: design and styling
These first official images show a prototype in the final stages of development, and hint at the final design ahead of next year's big debut. Like the Juke and the next-generation X-Trail – already revealed in the United States in the form of the latest Rogue – a big design overhaul is expected inside and out.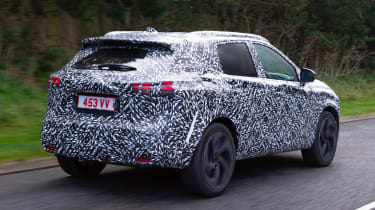 Inspiration is likely to be taken from a combination of the sportier look of the new Juke, and from the IMQ concept revealed at the 2019 Geneva Motor Show. So we expect a front end defined by the brand's new V-shaped front grille alongside horizontal V-shaped headlights.
Nissan claims that the new car has a very similar footprint to the Mk2 model. Importantly, the wheelbase has been extended 20mm for additional rear legroom, while the Qashqai is a little taller now too. A 45-litre boot means that it's more practical than before as well.
New Nissan Qashqai: powertrains and hybrid tech
The new Qashqai moves onto the latest version of the Renault-Nissan-Mitsubishi Alliance's CMF-C platform, which is an updated version of the current car's underpinnings. It uses more ultra high strength steel than before, is lighter, better at absorbing impacts and is 41 per cent stiffer than before – changes Nissan says drivers will feel behind the wheel, as alongside improvements in comfort and safety, engineers are targeting a Qashqai that's better to drive than before too.
To that end, the suspension has also been updated with reprofiled MacPherson struts front and rear. On all-wheel drive versions of the Qashqai riding on 20-inch wheels, multi-link rear suspension will be standard in place of a torsion beam. Nissan has also worked on the Qashqai's steering system, claiming improved responsiveness and better road feel.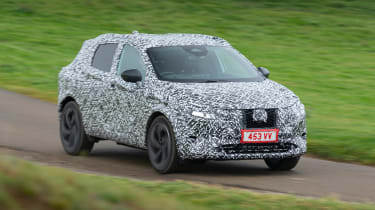 It's under the bonnet where things really change for the new car, however. Diesel is completely off the menu, with a slimmed down engine line-up consisting of a 1.3-litre petrol engine available in two power outputs and with 12-volt mild hybrid assistance, and a new hybrid model.
The 1.3-litre mild-hybrid engine is available with 136bhp or 153bhp, and buyers are offered a choice of manual transmission or CVT automatic, the CVT cars also available with all-wheel drive.
Technical details for the e-Power hybrid remain under wraps, but it'll produce 185bhp. A petrol engine is used but not to drive the wheels, it's there to charge a battery powering an electric motor setup. A plug-in hybrid version of the Qashqai won't be coming though, with Nissan prioritising e-Power tech and all-electric vehicles like the new Ariya – the Qashqai's electric sibling.
New Nissan Qashqai: safety and autonomous driving
Qashqai will be upgraded to the brand's latest standard in terms of semi-autonomous driver tech. The ProPilot system being readied for the next Qashqai bolsters the pre-existing steering, acceleration and braking assistance with navigation data, slowing for corners, while it can also read road signs for changes in the speed limit and adjust the cruise control accordingly. A 'flank protection' feature works with the blind-spot monitoring system – if the driver tries to turn in on someone, the steering will automatically intervene.
Keen to find out more about electrification? Get the latest electric car news and reviews on our sister site, DrivingElectric.com…
Source: Read Full Article