New 2021 Dacia Sandero revealed in official images
The first official images of the third-generation Dacia Sandero have been released ahead of the car's scheduled launch on 29 September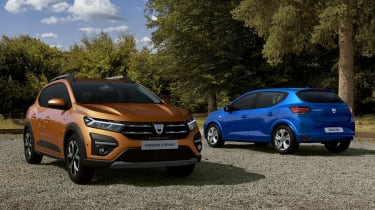 These are the first images of the third-generation Dacia Sandero. The all-new model will make its debut later this month, before going on sale early next year – and Dacia is promising improved levels of equipment, while retaining the same standards of simplicity and reliability.
Dacia hasn't released much more information on the specification of the new Sandero – and the company's teaser images give little away about the equipment each car will receive. So far, all we know for certain is that the Sandero line-up will receive an updated styling.
Best hatchbacks to buy now 2020
Dacia has taken an evolutionary approach to the new Sandero's design; the car's overall shape is familiar, with the same simple lines and high roofline, but its proportions look visibly stretched in comparison to the current model – suggesting a new, slightly larger platform could be holding up the bodywork.
These images offer confirmation that the company's SUV inspired Stepway trim-level will be available on the next-generation model – and, like its predecessor, it'll feature roof rails, black plastic body cladding and a slightly raised ride-height.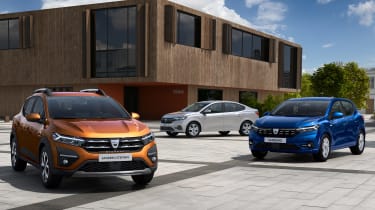 Since it was introduced in 2002, the Sandero has been based on the same platform as the third-generation Renault Clio – and the underpinnings are starting to show their age. So, in order to comply with current safety and emissions regulations, Dacia looks set to move the Sandero onto the same CMF-B underpinnings as the latest Clio and Nissan Juke, potentially raising the price of the famously budget-friendly car in the process.
To keep costs as low as possible, Dacia is unlikely to fit the Sandero with the Renault-Nissan Alliance's expensive mild-hybrid or plug-in hybrid powertrains, sticking instead with the hatchback's familiar range of small-displacement petrol and diesel engines.
As such, parent company Renault could provide the Clio's entry-level engines for use in the Mk3 Sandero. Options could include a 71bhp naturally aspirated 1.0-litre three-cylinder petrol engine for the lower end of the Sandero line-up, with 128bhp turbocharged 1.3-litre four-cylinder petrol unit occupying the top spot in the hatchback's line-up.
An upgraded platform would also mean that the new Sandero could receive a decent technology boost, but it remains to be seen whether Clio's infotainment system and digital instrument cluster will make the leap, as both may be too expensive for the Sandero's notoriously low price-point.
Finally, lurking in the back of these official images, is the next-generation Dacia Logan. It'll be based on the same underpinnings as the Sandero and feature the same updated styling language and technology. Whether the new model will be offered in the UK as a saloon is yet to be confirmed.
Click here to read our in-depth review of the current Dacia Sandero…
Source: Read Full Article