New 2021 BMW M4 leaked in full ahead of official launch date
Official images of the next-generation BMW M4 have surfaced online ahead of the coupe's scheduled unveiling tonight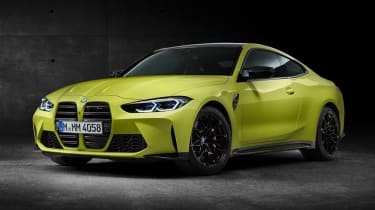 We've got our first clear look at the third-generation BMW M4 a little earlier than expected. Official images have been leaked online ahead of the car's launch event tonight, detailing the coupe's styling in full. When it reaches the UK market next year, it'll offer fresh competition for the Mercedes AMG C 63 and Audi RS 5.
These leaked official images confirm that the new BMW M4 will receive the same makeover as the standard 4 Series, with a pair of enormous kidney grilles and slim LED headlamps. BMW's M-division will also fit an aggressive styling package, which includes flared wheel arches, a deeper splitter and a pair of wider side skirts.
Best performance cars 2020
There'll be a deeper diffuser at the rear, too, which houses a new quad-exit exhaust system – and the whole car will sit lower to the ground on larger alloy wheels shod in Michelin Pilot Sport 4S tyres. Unlike the previous-generation model, the convertible variant will also ditch its folding metal hardtop in favour of a fabric roof, to help keep weight to a minimum.
Inside, BMW's makeover will be even more extensive. Buyers will get an M-branded sports steering wheel, a smattering of carbon fibre trim and a pair of new carbon-backed bucket seats. There'll be an outlandish upholstery colour palette, too, which includes this new blue and petrol-green Alcantara combo.
BMW is also expected to update the standard 4 Series's infotainment setup with some M-specific graphics. Like the conventional model, buyers will get a 10.2-inch iDrive system mounted in the centre of the dash and 12.3-inch digital instrument binnacle.
New BMW M4: engines and drivetrain
Like its sibling, the upcoming sixth-generation BMW M3, the new M4 will feature a turbocharged 3.0-litre straight-six petrol engine. However, it won't be the same S55 engine that was used by the previous-generation model, with BMW electing its all-new S58 unit, which already powers the X3 M and X4 M performance SUVs.
European buyers will be offered a choice of two engine outputs but, like the rest of BMW's M-badged line-up, UK customers will only be offered the more potent Competition variant.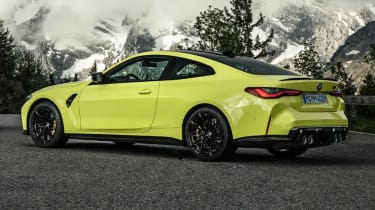 The entry-level model will produce 473bhp and 600Nm of torque – and it'll come with a six- speed manual gearbox as standard. The flagship M4 Competition will have an output of 503bhp and an identical 600Nm of torque. It'll be available with an eight-speed automatic gearbox which, somewhat unusually for a performance car, won't use a dual-clutch mechanism. Instead, BMW has opted for a traditional torque convertor setup.
We're yet to receive specific details on the car's chassis technology but, during our recent pre-production drive of the new M3 and M4, BMW's M Development Manager Dirk Häcker hinted that it will receive a stiffer front axle, new electronically control dampers and a locking rear differential – along with a set of larger disc brakes.
From launch, the M4 Competition will be rear-wheel drive only – although an all-wheel drive variant is in the works. When pressed about the new drivetrain, Häcker said: "an M xDrive is coming, but only later."
When the four-wheel-drive model does arrive, though, it's architecture should be similar to the selectable system found in the new M5 – giving drivers the option of sending up to 100 per cent of the engine's power to the rear wheels if desired.
New 2021 BMW M4: price and market
Prices for the new BMW M4 are yet to be confirmed – but its four-door sibling, the M3, is expected to start from around £76,000. Given there's roughly an £7,500 gulf between the standard 3 and 4 Series, that should put the new M4's starting price at around £83,500.
Check out the latest on the BMW 4 Series Convertible here…
Source: Read Full Article