New 2020 Tesla Model Y: specs, prices and on-sale date
The new Tesla Model Y SUV will offer up to 314 miles of range when it arrives in the UK, likely costing from around £45,000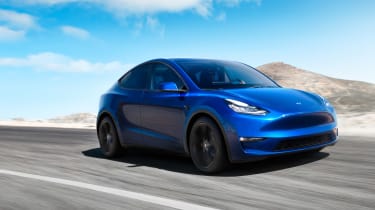 Deliveries of the new Tesla Model Y have begun in the US, with the electric SUV set to enter Europe and UK markets later in 2020.
Tesla's factory at Fremont is believed to be producing Model 3s and Model Ys at a rate of 400,000 units a year, a figure that's expected to rise to 500,000 annually once production lines have been fully upgraded.
Tesla Model Y ride review
Elsewhere, Tesla's plant in Shanghai is expected to add another 150,000 units of capacity later this year, while a new facility in Berlin-Brandenburg is due to start producing vehicles in 2021.
Musk has previously said that the Model Y will share three-quarters of its components with the Model 3 saloon, including its platform. To achieve its maximum claimed range, it's certain that the Model Y will use the same 75kWh battery pack as the Tesla Model 3 Performance.
Tesla Model Y: prices and specs
CEO Elon Musk confirmed the car's performance specs during its online reveal, in March 2019, but launch specs could change – Tesla isn't afraid to shuffle its line-ups with little warning.
If the car arrives as planned, a Long Range variant will be available from the get-go. At the launch event, Tesla revealed it would carry a price-tag of $48,000 in the states, but this price is possibly now outdated, given the Long Range Model 3 is priced from $48,990 in the States. 
UK prices won't be revealed for some time, but Tesla would probably price the car from around £45,000 – it tends to price UK cars in pound sterling very similarly to US cars in dollars. With rear-wheel-drive, it'll hit 0–60mph in 5.5 seconds on its way to a top speed of 130mph. Meanwhile, maximum range from a single charge stands at around 300 miles.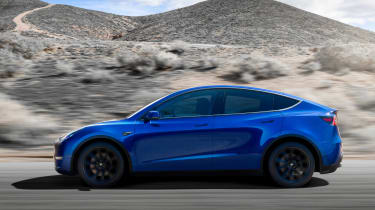 The newly updated Tesla Model Y Dual Motor AWD powertrain will also be available from the car's launch, priced from $52,000 – likely £50,000 here, though the brand would be incentivised to offer it for less than that, given the Government's £3,000 plug-in car grant now only applies to cars costing less than £50,000. Naturally it will be slightly faster, completing the 0-60mph sprint in 4.8 seconds en route to a top speed of 135mph. Range is increased to 314 miles.
Meanwhile, Tesla's range-topping Model Y Performance will be priced from $61,000 in the US and will boast an estimated WLTP range of 298 miles, a top speed of 150mph and a claimed 0–60mph time of 3.5 seconds. Given Tesla's parts-sharing strategy, it's likely that the range-topping Model Y will use the same drivetrain as the Model 3 Performance, offering an output of around 450bhp.
An entry-level Standard Range Plus variant is also expected to follow after the initial launch. It'll go on sale early in 2021, with a top speed of 120mph, a 0–60mph time of 5.9 seconds and a 230-mile range. 
Design, interior and dimensions
The exterior styling of Tesla's baby SUV is inspired by the Model 3. It retains the 3's four-door silhouette, blanked-off radiator grille with a flat nose, narrow LED headlights and neat ducktail spoiler. The costly and complex 'Falcon Wing' doors found on the larger Model X SUV have been omitted.
Inside, most of the Model Y's interior is lifted from the Model 3. Features include a minimalist dashboard, a panoramic glass roof, a wireless smartphone charger and an enormous 15-inch, centre-mounted infotainment screen, which controls everything from the navigation system to the glove-box lid.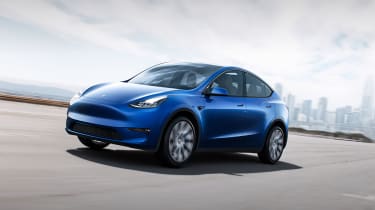 Like the Model X, the Model Y offers seating for up to seven, thanks to a pair of stowable seats behind the second row. However, the extra seating will only be available as an optional extra.
Musk has said that the Model Y "will have the functionality of an SUV, but the capability of a sports car," promising neat handling thanks to its low-mounted battery pack. It also has a drag coefficient of 0.23, making it more streamlined than a Toyota Prius.
According to the car's owner manual – which has surfaced online – the Model Y is 4,750mm long, 1,920mm wide and 1,623mm tall. That makes it 68mm longer, 25mm wider and 58mm taller than the Jaguar I-Pace, but smaller than the Audi e-tron, which is 151mm longer and both wider and taller by a couple of millimetres. Weighing a claimed 2,003kg in its Long Range, Dual Motor configuration, the Model Y is significantly lighter than either the I-Pace or the e-tron.
It also means that the Model Y has grown in every dimension compared to the Model 3 on which it's based. The upshot of this is greatly improved cabin space: Tesla says that the Y has 43mm more headroom and an impressive 135mm extra legroom for rear seat passengers compared to its entry-level saloon.
What are your thoughts on the new Tesla Model Y? Let us know in the comments section below…
Source: Read Full Article