New 2020 Audi A3 hatchback arrives with hi-tech interior
The new Audi A3 will be five-door only at launch, and is expected to start from £24k when it goes on sale this summer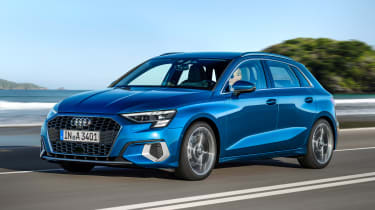 The all-new Audi A3 hatchback has been revealed and it will go on sale in the UK this summer, with prices set to start from around £24,000.
The outgoing A3 is the oldest car in the brand's UK line-up, but the changes for this Mk4 car aren't revolutionary. It requires a trained eye to spot the differences outside, but at 1,820mm wide, this A3 has grown a fair bit, while it's also longer from nose to tail, at 4,034mm. Yet it's no taller than the Mk3, and the wheelbase hasn't grown.
New Audi A3 prototype review
Its exterior gets a makeover straight from Audi's latest design guidelines, with a larger hexagonal grille, new LED headlights and tail-lamps, plus aggressive styling for S line models. The boot has a wider opening than before and a 380-litre capacity.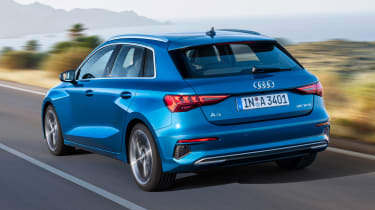 The big news for potential buyers is that the A3 hatchback is now only available as a five-door Sportback model, and no three-door version is planned. While unconfirmed, a saloon variant of the new A3 to take on the new Mercedes A-Class saloon is widely expected to follow in early 2021.
New Audi A3 interior
Inside, the makeover is more evident; sitting in the centre of the dash is a new 10.1-inch touchscreen display, housed in a gloss-black surround and angled towards the driver. It's directly above a fresh panel for the climate control settings and a rocker switch for various drive mode functions. Alongside the gearstick is a new volume control with a touch-sensitive click-wheel, which is operated like an old iPod.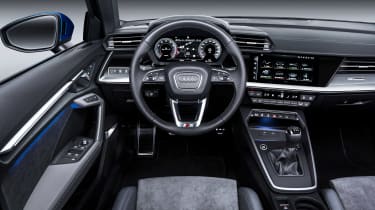 Sitting behind the fresh steering wheel is a 10.25-inch digital instrument panel, and the full-size 12.3-inch Virtual Cockpit system is an option. A head-up display can be selected, too. The car is also capable of receiving external signals and data, to provide real-time parking availability and traffic light information. However, this feature will not be functional in the UK from launch. In the near future, wireless Apple CarPlay and Android Auto, plus Amazon Alexa integration, will arrive on the A3, too.
New Audi A3 engine line-up
The new model sits on a revised version of the old car's MQB platform, so driver-assistance and safety tech are updated to include a new adaptive-cruise system with steering assist at speeds up to 130mph. However, the engine line-up is largely unchanged, except for the addition of a new 48-volt-assisted mild-hybrid powertrain.
The entry level car will be a 1.0-litre three-cylinder turbocharged petrol model, badged 30 TFSI and developing 108bhp. There will be two further petrol options, both based on a 1.5-litre four-cylinder unit with 148bhp. The regular version of this motor is called the 35 TFSI, but Audi has not yet named the 48-volt mild-hybrid version of this unit. No precise fuel economy figures have been released, but Audi claims this system saves around 0.4 litres of petrol for every 62 miles driven, while also reducing CO2 emissions.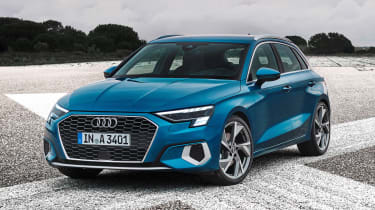 As for diesels, the UK line-up has yet to be finalised, but two motors have been confirmed for mainland Europe. Both are 2.0-litre TDI units, one with 114bhp, the other with 148bhp. Depending on which powertrain is selected, the A3 comes with a new six-speed manual gearbox, or a seven-speed S tronic dual-clutch automatic.
Further variants are planned, including some with quattro all-wheel drive, while Audi is also promising two plug-in hybrid versions will follow. Specifications for these new cars haven't been confirmed, but the A3 will almost certainly mirror the Volkswagen Golf's strategy of having a 1.4-litre, 242bhp hot plug-in option, capable of travelling 40 miles on battery power alone, alongside a cheaper, less powerful version. Hot S3 and RS 3 models are also in the pipeline.
Would you pick the new Audi A3 over the BMW 1 Series and Mercedes A-Class? Let us know your thoughts below…
Source: Read Full Article