MINI Oxford factory gets go-ahead to build new electric MINIs in the UK
MINI has safeguarded the future of its Oxford factory with the announcement that the plant will transition to build electric MINI cars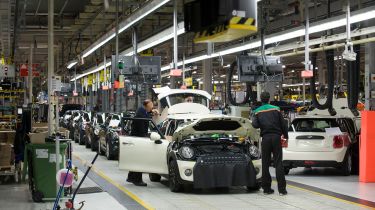 MINI has confirmed fresh investment into its Oxford plant that safeguards its long-term future and see it switch to producing pure-electric models from 2030, including the new three-door MINI Cooper.
The facility, which celebrates its 110th anniversary this year and has made the 'modern MINI' since it was introduced by the BMW Group back in 2001, is currently manufacturing the three-door and five-door MINI, plus the MINI Clubman and MINI Electric.
New 2024 MINI Cooper EV unveiled with up to 250 miles of range
From next year Oxford will start making the newly announced next-gen MINI, in three-door and five-door forms, with combustion engines, as well as the new MINI Convertible. But there has been concern at the lack of a more significant electric-car deal, when the MINI brand is expected to drop combustion engines by 2030.
However, the new investment means that from 2026, the ICE models will be joined on the Oxford production lines by a pair of EVs – the three-door MINI Cooper and the MINI Aceman, the small crossover that is designed to bridge the gap between the regular MINI and the new, larger Countryman, which is being made alongside BMWs in Leipzig.
To facilitate the switch, parent company the BMW Group is sinking an additional £600m into the UK site – taking total investment in its UK operations to more than £3billion since 2000 – and Oxford's overall capacity will reach 200,000 vehicles per year when it's making both EVs and ICE models. It is conceivable that this may drop slightly by the end of the decade, though, to coincide with a switch to pure-electric vehicles from 2030.
MINI brand boss Stefanie Wurst said "Oxford is and remains the heart of the MINI Brand. I'm delighted that the two new fully electric models are also being produced in Oxford, confirming our path to a fully electric future."
BMW Group says that the UK Government "supports the investment". The firm admits that this does extend to some financial input, but has declined to provide a figure; Auto Express understands that it may extend to 10 per cent of the total amount, or around £60m. Business and Trade Secretary Kemi Badenoch said, "This decision is a big vote of confidence in the UK economy. We are proud to be able to support BMW Group's investment."
Click here for list of the best small electric cars…
Source: Read Full Article