McLaren F1 LM and Solus GT in new Speed Champions Lego set
To celebrate its 60th anniversary, McLaren has released a 581-piece Lego set which includes the iconic F1 LM and Solus GT hypercars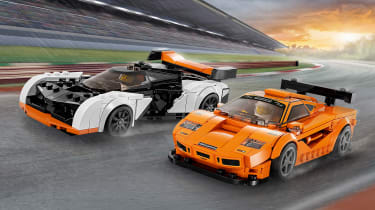 McLaren is kicking off 2023 with an altogether more affordable offering than its usual mid-engined supercars. The company turns sixty years old this year, and to commemorate the occasion, it has licenced a new Lego set containing two of its landmark hypercars from past and present. 
The new Speed Champions kit costs £39.99 and lets buyers build scale models of the firm's track-only Solus GT and F1 LM race car, which measure 16cm and 15cm long respectively. The central driving positions of both cars have been replicated in Lego form, along with the F1 LM's iconic papaya orange paint colour. The miniature Solus GT has a white, black and orange colour scheme, while a pair of McLaren-clothed Lego figures are also included in the package. 
New McLaren Artura 2023 review
The F1 LM was built as the ultimate road-going version of McLaren's supercar in 1995, with extra power, track oriented suspension and more extreme aerodynamics than the base car. It serves as a tribute to the F1 GTR racer which took victory at the 1995 24 Hours of Le Mans, and it's a car to which the Solus GT can trace its track-bred roots. 
McLaren's single-seat hypercar was unveiled last year as a track-only special designed to provide 25 customers with a taste of Formula 1 performance. As such, it's fitted with a 5.2-litre V10 that develops 829bhp, and spins to over 10,000rpm. The shrink-wrapped bodywork uses scalloped surfaces and huge diffuser tunnels to produce 1,200kg of downforce at speed. 
Speaking on the new Lego set, McLaren's chief designer Goran Ozbolt said: "As 2023 marks the 60th anniversary of McLaren and our founder's passion to create the ultimate supercars, we felt this was the perfect opportunity to come together with Lego and celebrate some of the iconic McLaren road cars whose designs were born of that vision. Whatever age you are, you can have fun building and exploring the cars and through that I hope we can inspire future designers and engineers who will help us look to the next 60 years and beyond."
Click here to find out how Lego's iconic Bugatti Chiron set was designed….
Source: Read Full Article