Maxxis Premitra Snow WP6 review
A podium spot for straight-line aquaplaning contrasted with a lowly seventh on the curved test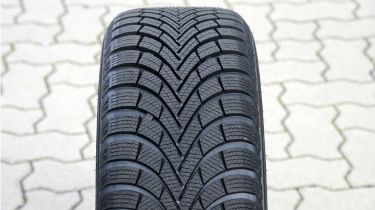 We've seen promising performances from Maxxis in our other tests, and while joint sixth doesn't immediately impress here, the WP6 was in the thick of the battle for the final podium spot. 
It performed best in the dry, where it was third across the two tests with a pair of podium finishes. It impressed on the stopwatch and it felt good, with a liveliness most rivals lacked. The front gripped well with limited push when accelerating. It was also responsive to throttle changes.
If the dry was its peak, then it was in the freezing temperatures where it struggled, although it was closer to the leaders in the wet, where it delivered mixed results. Nowhere was that more apparent than in aquaplaning, where it was second in a straight line, but seventh on the curve. Handling and cornering were more consistent, but an initial sharpness was dulled as the laps went on, although this did make for a stable rear.
It took the cabin noise win, which will appeal to some, but poor fuel economy will deter others. A better result there and Maxxis would have jumped several spots.
We say:
A mixed bag from Maxxis on its winter debut, with some promising results close to the leaders, but fuel economy needs work if it is to challenge the top two in future tests.
Blackcircles.com says…
At the time of writing, Blackcircles.com does not currently hold stock of this tyre, so we are unable to provide any insight into the tyre's popularity or performance with our customers.
| | | |
| --- | --- | --- |
| Maxxis Premitra Snow WP6 |   |   |
| Overall: | 96.70% |   |
| Price: | Price £89.45 |   |
| Snow braking: | Snow braking 97.9% | 6th |
| Snow traction: | Snow traction 96.0% | 7th |
| Straight aquaplaning: | Straight aquaplaning 96.6% | 2nd |
| Curved aquaplaning: | Curved aquaplaning 84.4% | 7th |
| Wet braking: | Wet braking 88.2% | 6th |
| Wet handling: | Wet handling 98.4% | 4th |
| Wet circle: | Wet circle 97.8% | 3rd |
| Dry braking: | Dry braking 95.5% | 2nd |
| Dry handling: | Dry handling 98.7% | 3rd |
| Rolling resistance: | Rolling resistance 80.0% | 8th |
| Cabin noise: | Cabin noise 100% | 1st |
Source: Read Full Article