Lockdown traffic chaos warning: 10 million cars set to hit the roads
One in three drivers is expected to take to the roads this weekend, as English lockdown restrictions ease on 4 July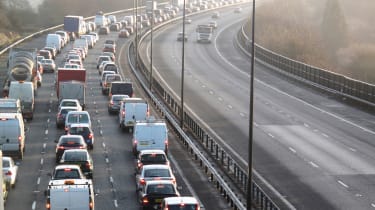 Traffic experts are warning England's roads could be choked with over 10 million cars next weekend, as significant easing of lockdown rules will permit people to travel to stay in the houses of friends and families for the first time in three-and-a-half months.
The prediction follows a survey commissioned by the RAC, which found 31 per cent of motorists are planning to travel and stay overnight in England on the weekend of 4 July. With 34 million driving licences held in England, that extrapolates to 10.54 million people planning journeys. The figures don't take into account all the journeys that will be made by people who don't plan to stay overnight, so if the RAC data is to be believed, we could have an extremely busy weekend in store. 
Six-month MoT extension ends on 1 August
The weekend of 4 July marks the first time (save for exceptional circumstances) since lockdown was introduced on 23 March that English people have been allowed to spend the night in other people's houses – although restrictions remain in place, and only two households can gather under one roof. 
Some 11 per cent of the 1,400 drivers surveyed by the RAC said they would be heading for overnight stays with family members, while a further eight per cent said they would be sleeping over at friends' houses. Assuming those trends extrapolate to the wider motoring public, that equates to 6.46 million journeys. 
Campsites, hotels and bed and breakfasts in England are also allowed to reopen on 4 July after being closed for 15 weeks; nine per cent of those polled said they would be staying at one of these destinations, equivalent to a further three million car journeys. 
What do Highways England Traffic Officers do all day?
Previous research by the RAC and Inrix estimates busy bank holiday weekends see around 12 million cars take to the road over three days, meaning 4 July could prove a record day for traffic levels. Rod Dennis, breakdown spokesperson for the RAC, said his firm's survey indicated "a large proportion of drivers in England are desperate to reconnect with friends, family and indeed nature by staying overnight", and that the volumes of traffic this looks set to entail will mean "some busy conditions on the roads".
Dennis added that while the location for traffic hotspots will depend on how far people travel, "motorways and major A-roads could end up taking the brunt of the traffic if people have longer distances to drive to see family and friends or to take a weekend break." Dennis also advised drivers to make careful checks on their cars before setting off, while campers should ensure their breakdown contract covers them for their caravans, motorhomes or trailers.
In full: Where do drivers plan on staying overnight in England this weekend?
| | | | | | |
| --- | --- | --- | --- | --- | --- |
| Accommodation type |   | % of drivers |   | Equivalent number of drivers |   |
| A family member's home |   | 11% |   | 3,740,000 |   |
| A friend's home |   | 8% |   | 2,720,000 |   |
| At a campsite |   | 6% |   | 2,040,000 |   |
| At a caravan site |   | 2% |   | 680,000 |   |
| At a hotel or bed and breakfast |   | 1% |   | 340,000 |   |
| In self-catered accommodation |   | 2% |   | 680,000 |   |
| At a second home |   | 1% |   | 340,000 |   |
| Total with plans to drive and stay over |   | 31% |   | 10,540,000 |   |
If you need a car to handle the traffic, check out our top 10 commuter cars here…
Source: Read Full Article