Lamborghini Aventador successor to arrive with hybrid V12 offering "more revs, more sound"
The replacement for the recently discontinued Aventador will still be exciting despite the adoption of hybrid power, say Lamborghini's CEO and CTO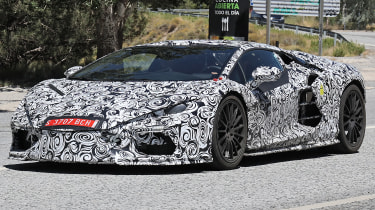 Petrolheads should have nothing to fear from the Lamborghini Aventador's successor going hybrid, judging by comments made by company bosses. 
Speaking to Auto Express at the recent launch of the Urus Performante, Lamborghini chief technical officer Rouven Mohr said the all-new naturally aspirated engine at the core of the new hybrid powertrain will feature "[more] power, more revs, more sound," relative to the outgoing car's 6.5-litre unit. "It will be incredible," he added. 
Plug-in hybrid Lamborghini Huracan replacement due in 2024
Speaking of his experience in prototype versions of the car, Mohr suggested the hybrid system will mean drivers can blend typical supercar thrills with the serenity of electric motoring. "It's an extremely cool feature if you drive with this emotional high-revving sound, [then arrive at] the village, switch off, then silence. And then, in 'stealth mode' you run out, and then after you exit again: BAAAH! Full power!"
While the Urus hybrid SUV coming in 2024 may use a battery as large as the 17.9kWh unit featured in fellow VW Group brand Porsche's Cayenne plug-in models, Lamborghini's hybrid supercars (an electrified Huracan replacement is inbound also) are set to use much smaller packs. "On the SUV we will not say that we use a very small battery, but in a sports car, we do," Mohr said. This will help to keep overall weight down, but the cars will almost certainly be heavier than the models they're replacing.
This shouldn't be noticeable from behind the wheel, CEO Stefan Winkleman claimed when speaking to Auto Express ahead of the company's Q3 financial statement. Based on his "extensive" time driving next-gen Aventador prototypes, he noted: "The car is outstanding, it's light-footed, and you don't feel the additional weight."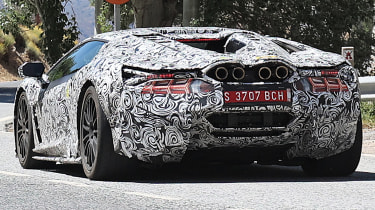 Winkleman added that while there are sustainability benefits to the new hybrid setup, "the main aim of this car is to use the battery as an accelerator of additional power. It gives you incredible power and also very good handling behaviour for a car of this weight which is incredible."
The car won't break cover until the end of Q1 2023, Winkleman noted, and yet, Lamborghini has already taken 3,000 pre-orders.
We've seen prototypes for the new car undergoing testing multiple times, most recently on the road. The disguised test car showed that the classic wedge shape is prominent, with an angular nose, low roofline and long rear deck, but now the design details are bolder than ever.
The headlights have parts of the bonnet overlapping them to give an aggressive look and we can see air intakes on the bumper, channelling air to the front brakes. There are huge brake calipers behind the test rims and at the side we see two more intakes (just like the Aventador). The electrical warning sticker gives away the electrified powertrain. 
Classic Lamborghini design traits such as pointed wing mirrors, a double-bubble roof and trapezoidal brake lights all feature on this test car. Lamborghini has been creative with the rear light camouflage however with the real lights sitting beside the high-mounted, quad exhaust tips. At the bottom there's a huge diffuser which will work alongside an active rear spoiler. 
Lamborghini plans on going all-in on its electrification strategy, aiming to have at least a hybrid powertrain in all of its vehicles by 2024. By 2028, we're also due to see the brand's first pure-electric vehicle.
Now read our full review of the new Lamborghini Huracan Tecnica…
Source: Read Full Article