KTM Reveals New 600hp X-BOW GTX Race Car
Austrian motorbike and car manufacturer KTM has revealed the next evolution of its X-BOW track special. KTM calls the new car the X-BOW GTX, and it's the most powerful model the brand has ever produced.
Like the regular X-BOW, the GTX employs the 2.5-liter Audi five-cylinder to provide power. For this model however, it's been turned up to more than 600hp. In the X-BOW's lightweight, 2,200lb fully carbon composite chassis, that's a more than significant figure.
However these values are all subject to balance of performance calculations, as the GTX is intended as a race car in the mold of the X-BOW GT4. As with the GT4, KTM has partnered with Reiter Engineering to build the car, which sports a new, higher downforce body and increased power — suggesting something a little quicker than GT4.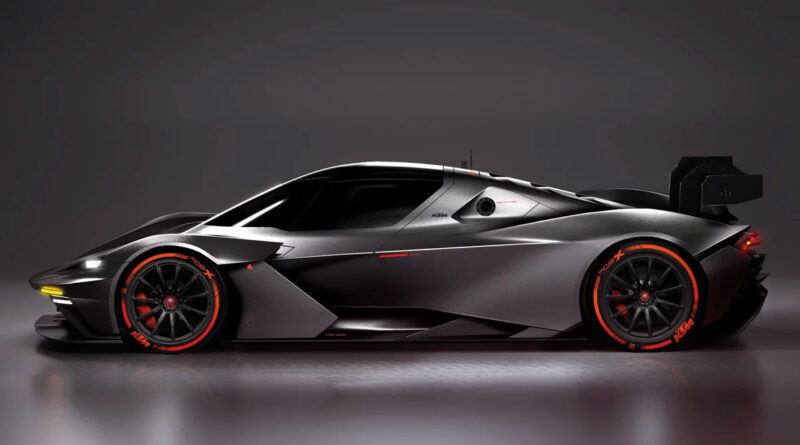 In fact the X-BOW GTX is destined to be a GT2 racer. This is a fledgling category that, confusingly, is supposed to bridge the gap between GT4 and GT2. The cars are close in ethos to GT3 cars, but less expensive and the category focuses on amateur — or Bronze — drivers, where GT3 is dominated by professional drivers.
Although the X-BOW GTX is yet to receive homologation from the governing body, the SRO, the dinky KTM would line up in GT2 form alongside Porsche and Audi. It would also be eligible for championships like the VLN Nurburgring Endurance Series, 24H Series, and International GT Open, again depending on homologation. KTM is also planning a one-make series with the car.
Hubert Trunkenpolz of KTM Sportcar, commented:
"We transfer KTM's essential brand elements – extreme, performance and purity – together with KTM's core areas of expertise, which include state-of-the-art motorsports technology, extremely lightweight construction and the highest quality components, in a racing car that clearly reflects the signs of the times.
"Following the worldwide success of the KTM X-BOW GT4, and as reigning champion of the ADAC GT4 Germany, we are now taking the next step with our new racing car, and we will soon be competing in a higher class of racing."
KTM expects the X-BOW GTX to debut in GT2 in the latter half of the year, and will announce full specifications and pricing in due course.
Source: Read Full Article