"Kia is a huge success story but its new high prices are a risk"
Kia is going upmarket, but Mike Rutherford thinks luxury models should solely be the domain of sister brand Genesis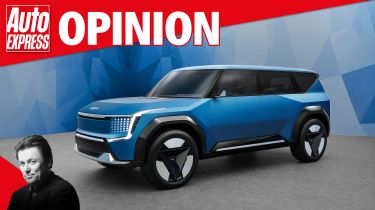 I don't do smug. But, looking back, I do feel a sense of vindication. Repeatedly in the 2010s, I visited Kia in Korea and America to see and drive what the company's research, design, engineering and other centres were producing. So impressed was I that I named it as my car company of the decade.
Back then, Kia was, and still is, among the world's best at refusing to take sides in the ICE vs EV debate. It sent a message to consumers that whatever they wanted, the answer was yes – be it petrol, diesel, LPG, hybrid or pure-electric. As part of the Hyundai clan, Kia even enjoys access to the latest hydrogen tech, in case the motoring masses demand it (which they don't).
New Kia EV9 electric SUV: design, specs and 2023 release date
The awards Kia has won recently say much about its product quality and reliability. Also, its design, engineering, credibility and desirability levels have shot up. As have sales. In the UK, only Volkswagen, Ford, Audi and Toyota moved more metal in 2022.          
Traditionally, most Kias were unapologetically small to medium; low to mid-spec; right for buyers seeking good or great value, topped off with seven-year warranties. With all this in mind, I told a senior executive in the UK that it should adopt my Keeping It Affordable (geddit?) slogan. "Absolutely not," he said. Why? Because, he warned me, the cars would become larger, more upmarket and increasingly expensive.
Thankfully, Kia's UK boss recently told Auto Express how important small, affordable cars are as a 'gateway to the brand', even if electrification may have to redefine our measure of affordable.
Kia's range now includes cars like the EV6, which tops out at over £60,000. The firm's upcoming EV9 SUV is certain to cost more – could we see a £70,000-plus EV9? I think so.
I'm all for marques such as Kia going upmarket, but do they have to slap luxury car prices on their flagship models? Yes, the firm is getting better at building luxurious features into some of its interiors, but that doesn't make it a luxury brand. Genuine luxury products and prices are the domain of its Seoul sister marque Genesis.
Luxury or executive cars sell in surprisingly low numbers, even if their profit margins are temptingly high – something that's not gone unnoticed at other brands. But it's traditional, everyday urban runabouts/superminis and low-spec mid-size family cars that are collectively purchased by the overwhelming majority of Brits annually.
Stellantis-owned Citroen makes the electric Ami in North Africa and sells it here for under £8,000. Renault-controlled Dacia in Romania retails its Spring EVs in mainland Europe at under 20,000 Euros (and will price it similarly in Britain if and when it arrives here). Volkswagen, Skoda and Cupra are promising cheaper EVs, too. Let's hope talk of Hyundai/Kia producing small, affordable, EV runabouts is true. But talking is one thing, whereas Citroen/Dacia-like positive action is quite different.
Consumers in our increasingly cramped world surely need more small, affordable, efficient, easy-to-park cars – and fewer of those large, unaffordable, comparatively inefficient vehicles that struggle to fit into regular parking spaces.
Source: Read Full Article