Kia EV6 to get bold new look for 2024
Kia's first dedicated electric car will get design and tech refresh to bring it in line with larger EV9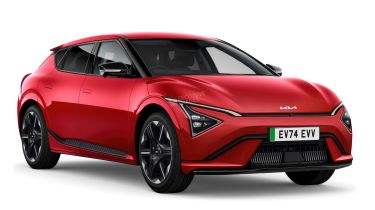 The Kia EV6 is set to get a completely new look, with the facelifted car heralding a major redesign to bring it closer in appearance to the brand's newly-launched EV9 flagship.
Due towards the middle of 2024, the EV6 – Kia's first dedicated electric car and the basis for a deluge of forthcoming EV-badged models – will get a cleaner front end and more distinctive daytime running lights (DRLs), Auto Express can reveal.
New Kia EV9 2023 review: the seven-seat EV that's packed with tech
Marketing director for Kia Europe, David Hilbert, told us: "Some time in the future, there will be enhancements to [EV6], and having that common design language [with EV9] will be something to look forward to."
Hilbert wouldn't elaborate on exactly which "enhancements" the EV6 would get, but hinted that commonality with the EV9 and EV5 SUVs, plus the EV3 and EV4 concepts, is all but a given.
This should mean the EV6 gets a slimmer set of headlights, as well as more recognisable vertical DRLs. It's likely Kia will remove the current car's narrow grille in favour of a single piece of slim black trim, while implementing a flatter front end, too. Expect the EV6's fundamental shape to remain, with no dimensional changes planned at this stage.
All of Kia's most recent models – EV3, EV4, EV5 and EV9 – share their so-called 'Starmap' tail-light design, so it's likely the EV6 will adopt a similar signature next year. However, the current car's rear clusters are connected via a full-width lightbar – it remains to be seen whether chief designer Karim Habib will incorporate the new look while also retaining this original defining feature.
Inside the facelifted EV6, we expect a significant tech upgrade, possibly lifting the EV9's three-screen layout wholesale. This would eliminate the need for the EV6's slightly-fiddly touch panel, which cycles between the climate control and media functions – possibly adding physical buttons for the heating and ventilation like those found in the EV9.
We don't expect huge changes under the skin, with the EV6 retaining its E-GMP platform and range of rear and dual-motor powertrains. The EV9 is offered with a larger 99.8kWh battery than the EV6, but this is unlikely to find its way into the smaller car, due both to size and weight. The Tesla Model 3 rival will retain its 800-volt architecture and high peak charge speed, however, for a 10-80 per cent top-up in less than 20 minutes.
Hilbert wouldn't give us a definite time frame for the revised EV6, but said "Every three years is a facelift, and then a full model change every six." This would suggest we're likely to see camouflaged cars testing early in 2024, before a full reveal sometime in the summer.
Click here for our list of the best electric cars on sale…
Source: Read Full Article