Just 5% of mechanics can work on electric cars
Vast majority of mechanics are not yet qualified to work on EVs as 2030 deadline looms, experts warn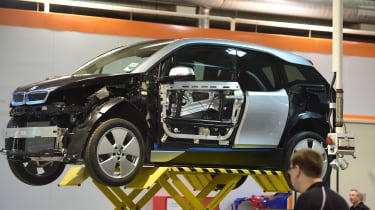 Only five per cent of mechanics working in dealerships and garages across the UK are qualified to work on electric vehicles, according to a leading industry body.
In response to the Government's announcement that a ban on the sale of new petrol and diesel cars is to be accelerated to 2040 to 2030, the Institute of the Motor Industry (IMI) has pointed out that 95 per cent of the country's mechanics have yet to complete the necessary qualifications to safely work on electric vehicles.
Best electric cars to buy 2020/2021
This means at present, there are between 13,000 and 20,000 qualified technicians working on 380,000 plug-in vehicles across the UK. The IMI is concerned that as EV and PHEV adoption increases, the number of vehicles will further outweigh the number of mechanics who can work on them. The organisation issued a similar warning in 2018, when only three per cent of mechanics were trained to work on EVs.
Covid-19 has only exacerbated the issue, the IMI says. In 2019, 6,500 certificates for working on EVs were issued in the UK. In Q2 2020, though, the number of certificates issued was down 85 per cent on the same period last year.
The organisation is now calling for support and incentives to be given to automotive firms to increase the number of technicians being trained to work on EVs, as well as improve and implement recruitment and apprenticeship schemes.
The organisation also warned that year that the existing Electricity at Work regulations weren't comprehensive enough for automotive mechanics, merely referencing "systems in vehicles".
Do you own an electric car? Let us know in the comments section below…
Source: Read Full Article