Inside Fiat Chrysler Automobiles
FCA is on the rise, and we've checked in with Alfa Romeo, Fiat, Jeep and Abarth for an exclusive look at what the future holds for the company.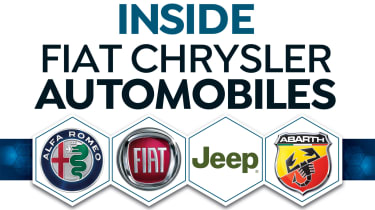 Fiat Chrysler Automobiles (FCA) is undergoing something of a renaissance. The Fiat 500 is being reborn with an all-electric future, while Alfa Romeo's Giulia and Stelvio have held their own against some very effective opposition in our road tests. Jeep, too, is on a roll with some interesting new products coming from the US brand.
Over the pages linked below, you'll discover the inside story on how FCA and its brands will continue to evolve over the coming years. We've spoken to the people that matter within the organisation, including Fiat boss Olivier François, design chief Klaus Busse and UK MD Arnaud Leclerc.
We've not forgotten about the present, either, with an epic drive to the Scottish Highlands in the very latest iteration of the Alfa Romeo Stelvio, and we discover if the rugged Jeep Wrangler can really cut it in the urban grind of family life. Plus, we shine a light on the very best models from Abarth's back catalogue – and we're giving one lucky reader a chance to drive a Wrangler for the next six months.
Inside FCA
The boss, the dealer and the customer: Inside FCA UK's rejuvenation
Stelvio's toughest test: We take Alfa's updated SUV on an epic Scottish trip
Living with a Wrangler: It's superb off-road, but is the 4×4 family-friendly, too?
Trip the light fantastic: The inside story on Alfa's revival of the GTA badge
Electric Jeeps: Company boss has high hopes for range's electrification
Inside the new Fiat 500: How Fiat electrified the 500 while maintaining its appeal
Fiat 500 design story: how to reinvent an icon
Do the maths: Boss reveals the thinking behind the electric 500
500 haute couture: Italian design houses present their take on the new 500
Abarth specials: We pick the best of performance brand's back catalogue
WIN A Jeep: Be prepared for adventure by living with a Wrangler for six months
For our all the latest news, reviews and features on the FCA brands, visit our Fiat, Alfa Romeo, Abarth and Jeep hub pages…
Source: Read Full Article