Images of new 2021 Lamborghini Countach leak online
A first glimpse of Lamborghini's reboot of the iconic Countach comes via images leaked on social media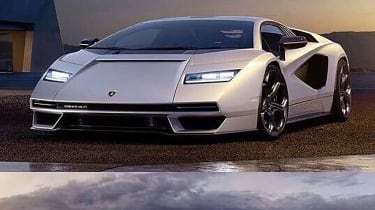 Lamborghini's reborn Countach supercar has leaked online, ahead of its anticipated reveal this weekend at the Monterey Car Week. 
Should these images be legitimate, they point to the brand using an early LP400 model as a starting point for the recreation, as it doesn't have the enormous rear wing and flared haunches found on the later cars.
New Lamborghini Sian 2021 review
The classic supercar's triangular intake which straddles the gap between the door and the body has also been recreated, along with the slatted engine cover and trapezoidal rear lamp surrounds. The pop-up lights have been omitted (likely for pedestrian safety concerns), but the new car's headlamp units have the same shape as the Countach's side lights.
One thing these images can't confirm, though, is what's powering the reborn Countach. But earlier in the year, Lamborghini explained how it will move away from purely internal combustion vehicles and towards an electrified line-up.
The first stage of the company's plan will "celebrate" the internal combustion engine, paying homage to its merits with the introduction of two new V12 models in 2021 and 2022.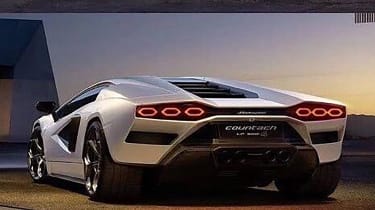 It's possible that this Countach recreation could come with a non-electrically assisted V12 – although Lamborghini could also look to use the car as a test-bed for future hybrid technology, potentially building on the mild-hybrid system found in the V12 Sian hypercar.
Other leaked information suggests the latter scenario is most likely. LPI 800-4 badging also leaked on social media suggests the new Countach will have an electrified powertrain and four-wheel drive. Lamborghini previously used the LPI moniker on its plug-in hybrid, V10-engined Asterion concept back in 2014.
LPI stands for 'Longitudinale Posteriore Ibrido' and indicates that the new hypercar will feature a mid-mounted engine with a longitudinal orientation and hybrid technology; 800 could refer to the powertrain's output in metric horsepower, as with other Lamborghini models, so a power figure of 789bhp could be possible.
What do you make of the new Lamborghini Countach? Let us know in the comments below…
Source: Read Full Article