Hyundai Vision FK hydrogen-powered sports car concept packs 670bhp
New hydrogen-hybrid prototype is part of Hyundai's Hydrogen Wave future strategy to bring fuel cell tech to the masses in every area of mobility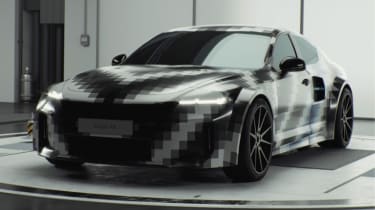 Hyundai has revealed its Vision FK hydrogen-hybrid sports car concept in disguised form at its Hydrogen Wave conference, previewing a production version of a sporty hydrogen-fuelled model.
As part of the brand's future strategy to accelerate the uptake of hydrogen fuel mobility to 2040, the Vision FK is a 670bhp concept with a sub-four-second 0-62mph acceleration time that Hyundai claims offers a range of more than 372 miles.
It follows Hyundai's recent commitment to make all of its vehicles in Europe fully electric by 2035 and is a part of a wider commitment that will see the brand launch two new hydrogen fuel cell powertrains in 2030, as well as broaden hydrogen fuel cell power in all areas of the market that the Hyundai Group operates in – this includes shipping and logistics, which will be served by new autonomous e-Bogies.
Fastest electric cars in the world
For the Vision FK Hyundai has partnered with EV performance specialists Rimac Automobili (of which it owns a 12 per cent stake); the car marries a Hyundai-designed and built hydrogen fuel cell stack with a fully electric plug-in powertrain developed in collaboration with Rimac.
A future production model would be the first to use this type of powertrain – and the Vision FK will make production, according to Hyundai's head of research and development, Albert Biermann.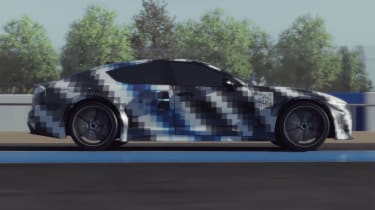 "The Vision FK is one of our rolling lab projects where we challenge our engineers to drive forward, and the packaging situation of this vehicle, which has a combination of a high-power battery electric system and a fuel cell system is very challenging.
"Our E-GMP system isn't suitable for this system, which is why we're working together with Rimac to put all this high tech into a very compact packaging situation of this sports car. We learnt a lot and are preparing for sports cars."
However, it's as yet unknown when we might see a production version of Hyundai sporty concept, which is thought to be similar in size to a BMW 3 Series. The firm has outlined that it is aiming for the cost of its hydrogen fuel cell vehicles to reach parity with its battery-electric cars by 2030.
A high-performance fuel cell electric vehicle is not entirely unexpected from Hyundai's N division, however. In 2015, the brand's performance arm revealed the N 2025 Vision Gran Turismo, powered by the world's first mass-produced hydrogen fuel cell, developed by Hyundai two years prior to its unveiling. The concept racer used two fuel cell stacks and a supercapacitor system to generate 872bhp. 
Hyundai has been a key player in hydrogen fuel cell technology in recent times, having released a hydrogen-electric SUV in 2018, called the Nexo, and a hydrogen-powered version of its ix35 back in 2015.
Read more about Hyundai's plans to offer two new hydrogen fuel cell powertrains in future passenger cars…
Source: Read Full Article