Hyundai to launch two new hydrogen fuel cell powertrains in 2023
The launch marks the first of many next-generation hydrogen-powered vehicles from Hyundai, with a rapid roll-out planned up to 2040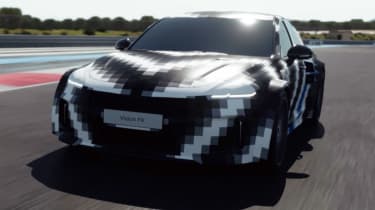 Hyundai has announced it will launch two new hydrogen fuel cell powertrains in 2023, as part of its mission to popularise the technology by 2040. The announcement was made at Hyundai's Hydrogen Wave conference, which showcases the firm's plans to make the tech "readily used for everyone, everything and everywhere".
The company's third-generation hydrogen fuel cell stack will be offered in either 100kW or 200kW outputs. The former is designed for use in passenger cars (like the current NEXO SUV), while the latter is specifically designed for use in commercial vehicles.
Hyundai teases upcoming hydrogen-powered sports saloon
Since the NEXO was launched back in 2018, Hyundai has managed to reduce the size of its 100kW hydrogen fuel cell stack by 30 per cent, which it says makes it easier to apply to a range of different vehicle types. The 200kW unit is also a similar size to the NEXO's, but offers double the performance.
By 2030, Hyundai aims to produce a hydrogen fuel cell vehicle with a similar price point to a battery electric vehicle, thanks to the improved production efficiencies of its next-generation powertrains. The firm is keen to point out that it already has managed to reduce the cost of the technology in the previous 20 years.
Hyundai also says it plans to become a leading expert in hydrogen-powered commercial vehicles, such as busses and heavy-duty trucks. By 2028, the company hopes to become the first manufacturer to apply the technology to every commercial vehicle sector.
These traditional heavy commercial vehicles will be joined by a new purpose-built vehicle, too, called the Fuel Cell e-Bogie. Essentially, it's a four-wheeled autonomous subframe, complete with its own hydrogen storage system, which can be hitched to a variety of attachments to perform a range of specialised tasks.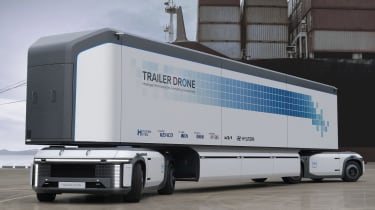 At one extreme, there's Hyundai's Trailer Drone which uses two e-Bogies to transport shipping containers around docks. It'll have a maximum range of 1,000km (around 620 miles) before needing to be refueled.
There are also plans for a hydrogen-powered rescue drone, which uses one e-Bogie and a couple of attachments such as a fire hose, strobe lights and microcopter. Hyundai says the drone will have a range of up to 500km (310 miles) depending on the terrain and will find particular use in fire-fighting and life-saving missions.
Hydrogen sports car
And Hyundai won't stop at that. The company is already planning a high-performance hydrogen-hybrid sports car called the Vision FK, which blends a hydrogen fuel cell with a plug-in hybrid powertrain for a maximum output of more than 500kW (around 670bhp) and a 0–62mph time of less than four seconds. The Vision FK will also have a maximum range of more than 600km (372 miles).
Hyundai's final mission is to get its hydrogen fuel cell technology powering our homes and businesses. Its fuel cells are modular and can be stacked together to create a mini power station with an output of one megawatt (or 1,000kW), which the company says would be ideal as an emergency power source for an IT firm.
Euisun Chung, Chairman of the Hyundai Motor Group, said: "Hyundai Motor Group's vision is to apply hydrogen energy in all areas of life and industry such as our homes, work-places and factories. The goal is to make hydrogen readily used for everyone, everything, and everywhere. 
"We want to offer practical solutions for the sustainable development of humanity and with these breakthroughs, we aim to help foster a worldwide Hydrogen Society by 2040."
Now read about Hyundai's plans to stop selling combustion-powered cars in Europe by 2035… 
Source: Read Full Article