Hyundai Kona Electric to get increased range from July
UK-delivered Hyundai Kona Electrics will be outfitted with a handful of mechanical revisions, boosting the SUV's maximum range to 300 miles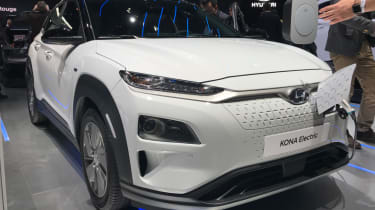 Hyundai will soon update the Kona electric with a handful of mechanical upgrades, which the company says will boost the SUV's maximum range from 279 miles to 300 miles. The upgrades have already been implemented on the European-delivered versions of the Kona electric, and right-hand-drive UK models expected to follow suit from July this year. That means that almost all fresh orders from this point onwards should get the increased efficiency.
Unlike Audi's recent range increase for the e-tron, Hyundai's revisions are mechanical rather than software-based. The updated Kona electric will receive a fresh set of low-resistance Michelin tyres and a couple of (as-yet-unspecified) changes to its chassis, which the brand says allows the car to impart less friction on the road, thereby increasing range.
Best electric cars to buy 2020
The updates will be applied to both versions of the Kona electric – and both should retain the same level of performance. The most powerful model will have an identical battery capacity of 64kWh, and its electric motor will feature the same 201bhp output. As such, its 0–62mph time and top speed are unlikely to change, at 7.6 seconds and 104mph respectively.
The less potent 39.2kWh Hyundai Kona electric's maximum range will increase from 180 miles to around 190 miles as part of the update. Its performance figures are also expected to be identical; power output will remain the same at 134bhp, while its 0–62mph time and top speed will stand at 9.7 seconds and 96mph.
Would the Hyundai Kona electric's range increase encourage you to buy an EV? Let us know in the comments section below… 
Source: Read Full Article