How to transfer a number plate from one car to another
Everything you need to know about swapping a registration plate from one vehicle to another in the UK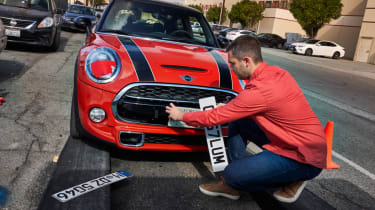 Personal, private or cherished number plates are a sign of status for some people. If you can get a registration on a car that has as few letters and numbers as possible in it, then it's a subtle sign that some people use to show they have a bit of cash. But if you've bought a pricey plate, you won't want to part with it when you're selling the car it's attached to. So here's what you need to do to keep the number plate from a car you're selling and put it on another vehicle.
A vehicle's registration, as with all licensing and car-related taxation, is handled by the DVLA, and there is a form to fill if you want to transfer a number plate from one car to another. It's called form V317 and it has two options available for you. Option A is to keep a vehicle's registration number and put it on another vehicle, while Option B is to keep the registration on what's called a retention document. This allows you to keep it for 10 years, so you don't have to put it on another car immediately. The form can be filled out in paper or you can do it online, but first, there is a list of requirements that must be met before you can transfer a number plate.
Your rights when buying a used car
For starters, the vehicle must exist. That may sound daft, but if the car isn't registered with the DVLA in the first place, then there's nothing that can be done to get the registration plate amended on it. Second, the vehicle needs to have a V5C registration document that has you listed as the registered keeper, or says that you are going to become the registered keeper. It must have road tax or a SORN declaration against it, and the vehicle must move under its own power.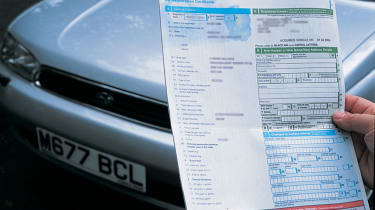 In addition, the vehicle must be available for inspection when needed by the DVLA and be capable of to passing a roadworthiness test (an MOT, for example). Finally, the registration you are adding cannot make the vehicle appear younger than it is. That means you can't put year-specific plates on a car built before the year in question. This is designed primarily to stop unscrupulous used car dealers from making a quick buck by fitting plates to old cars to make them look newer and sell them for an inflated value.
When is the best time to buy a car?
If these aspects are all met, then you're good to go. Simply fill out form V317 with the registration, make, model and VIN number of the car you want to remove the plate from, add your contact details in case there are any issues arising from the transfer, then fill in the details of the vehicle you want to put the registration on. And remember you need the V5C documents for both vehicles if you are transferring the number plate between one vehicle and another. You don't necessarily have to own the vehicle you want to change the number plate onto either.
How to retain a number plate
If you're retaining a number plate, then you need to fill out another part of the form. This still asks for the registration, make, model and VIN number, and your details, but then you need to fill out the details of the person who is retaining the registration. If this part isn't filled, then the registered keeper of the vehicle will automatically receive the retention document. This is DVLA form V778, and you use this form to transfer the registration to a new car when you're ready.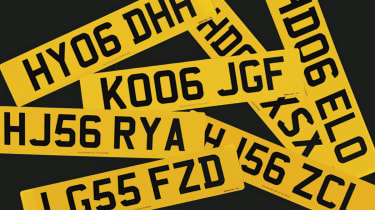 Whether you transfer or retain the registration, you'll also need to stump up £80 to get it processed.
Once your application has been submitted, it will take around two weeks for the transfer to process, although it may take longer if the DVLA want to inspect the vehicles involved. Once completed, you will receive a new V5C registration for the vehicle that had its registration removed. Here you will see that the vehicle has reverted to its previous registration (if it had one) or it will have a new age-related plate assigned to it. The new V5C for the car with the personal plate will also come through at around the same time.
The small print
There's plenty of small print that goes with the transfer of a number plate. The vehicle must have been taxed (or had a SORN declaration) continually for five years, and if it has been SORNed for more than five years, then it will need to be taxed. If you're thinking of transferring a number plate with a Q or QNI prefix, then stop, because these can't be transferred.
If the vehicle is sold before you apply to retain the personal plate, then you don't have the right to retain it. Also, if you don't remove the number before confirming the car's destruction to the DVLA, then you lose all rights to the plate as well.
In the unfortunate instance of the vehicle being stolen, then you can apply to keep the personal plate immediately to safeguard it, but you won't have the ability to transfer it to a new car or have a V778 issued until 6 months after the date of the theft, or once the vehicle has been recovered. You won't get a reminder from the DVLA about this, you'll need to remember to do it yourself.
And of course, any personal number plates that you have made for your car must be standard issue and clearly legible. So that means no non-standard fonts, correct spacing of the letters and numbers and not making numbers look like letters, and vice versa (5 and S, 8 and B, etc). It sounds obvious but legal details are also a requirement, so when speccing your plate make sure it has those ticked. If you've adhered to the above then you can fit your shiny new plate to your new car.
You've got the personal plate sorted, now read about the coolest cars in the world…
Source: Read Full Article