'Heritage gives established makers an advantage over electric car start-ups'
Deputy editor John McIlroy thinks many 'traditional' car manufacturers are looking to their past when designing their future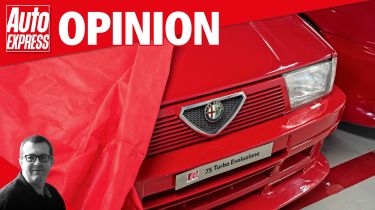 Car companies have bulging order books right now – and it could well take some of them until next spring to clear the backlog. But that's not stopping some of the oldest and cleverest manufacturers from taking a good, hard look at themselves in preparation for a very different second half of this decade.
The result could be a shake-up of how well-known brands are positioned. Only last week, Skoda proposed a new look that ditches its traditional roundel from the fronts of its cars and replaces it with a new, more assertive typeface that plays on the Czech character used in the manufacturer's name.
New Skoda Vision 7S previews future large electric SUV
The goal, we're told, is to give this 127-year-old company a bit more breathing space compared with SEAT and Volkswagen – and as the CEO told us, that will bring a resharpened focus on delivering the 'affordable entry point' to the wider VW Group.
Meanwhile, Alfa Romeo's design boss recently told us that he leads a relatively small team tasked with totally transforming the Italian marque's model line-up over the next five years. There's an emphasis on modern looks, on emotion – and yet, as we discovered at the firm's utterly glorious museum, Alfa Romeo isn't afraid to play the heritage card when needed. It could be elements like this that give 'traditional' car manufacturers a USP over fast-emerging EV-based start-ups, particularly those from China.
It's not just the older European brands that are playing with their history, either. Hyundai is tapping into its design studio's back catalogue; the Pony-inspired N Vision 74 was an Internet sensation when it was revealed, and as we find out this week, the driving experience is pretty special, too. It shows how delicate the balancing act is between referencing the past – reminding customers that there is history and lineage wrapped up in the badge – while looking to the future.
Click here for our review of Hyundai's N Vision 74 concept…
Source: Read Full Article