GT Sport Time Trials: Crowning Glory
The latest set of GT Sport Time Trials is now available, running for the next two weeks. It's a bit of a change of pace this week, and a very odd mix with both a highly unusual car and a very strange circuit featured.
You'll be using any Gr.4 race car of your choosing (so, probably a front-wheel drive one) in the fixed setting event. These road car-based racers are very closely related to what you could buy in the relevant car showrooms, but stripped back to the bare minimum and enhanced with racing tires and aerodynamic surfaces. They're not the quickest way to race, but the variety of vehicles available usually makes for good fun.
To test out these machines you'll head to one of the shortest circuits in the game. Kyoto Driving Park Miyabi is a teardrop-shaped course with two main corners at each end and two chicanes, bearing more than a passing resemblance to the Driving Park Beginner Course from previous Gran Turismo games. It's well-suited for very low power cars and karts, which should make this time trial a challenge — and the leaderboard will be decided by thousandths of a second.
For the tuning event the course is more normal but the car choice is a little on the strange side. You'll be taking on the Fuji International Speedway, formerly the home of the Japanese Grand Prix. It's a fast circuit, with an awkward final sector, and the version you'll be using has the tight Dunlop chicane too, just for good measure.
As Toyota owns this circuit, you might be expecting a rapid car from the brand — perhaps a Supra, or maybe a prototype — but you'd be wrong. The vehicle you'll be using is the Toyota Crown Athlete sedan, a 1.6-ton family car. To make this thing go quickly, you'll need to be on top of your tuning game, that's for sure!
GT Sport's Time Trial mode is a global competition, ranking your best time against all players worldwide, rather than just those in your region as with other Sport Mode events. These two time trials will run through to November 5, when two further events will replace them.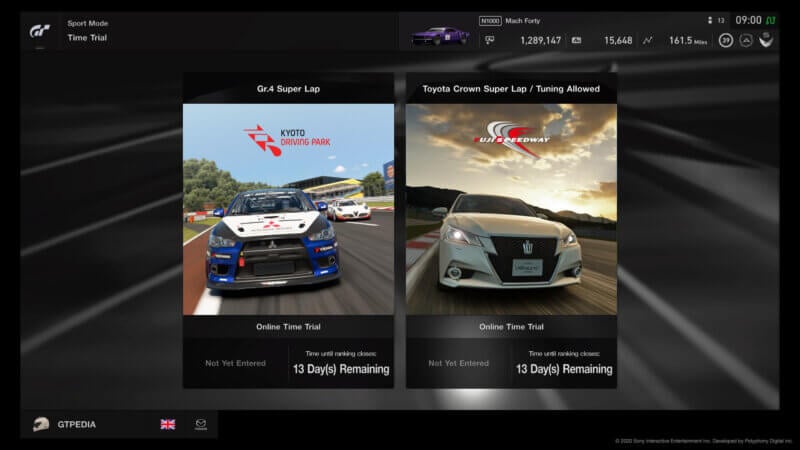 Gr.4 Super Lap
Track: Kyoto Driving Park – Miyabi
Car: Gr.4 – Garage Car
Tires: Racing Soft
BOP: On
Power/Weight Limit: N/A
Settings: Fixed
Toyota Crown Super Lap/Tuning Allowed
Track: Fuji International Speedway
Car: Toyota Crown Athlete G '13 – Garage Car
Tires: Sports Hard
BOP: N/A
Power/Weight Limit: 309hp/1650kg
Settings: Adjustable
Source: Read Full Article