GT Sport Daily Races: Route X Marks the Spot
You'll get a rare chance to test out your oval racing skills in this week's GT Sport Daily Races, with a new set of three events.
Our headline event comes in Race A. It's a single-lap event which takes you to the enormous, fictional test circuit, first introduced in Gran Turismo 5, called Special Stage Route X. SSRX rarely makes it into Sport Mode races, with a very special appearance in last season's FIA events as the only one that springs to mind.
The track is an 18.8-mile banked oval, consisting of two colossal straights of around 7.5 miles apiece, and two equal banked curves joining them at either end. It's set somewhere in the USA, and you'll be using an appropriately American car: the 2006 Ford GT. With slipstreaming as the recipe for success here, it's not likely you'll even know what your finishing position is until the post-race results screen, and we anticipate many, many penalties and SR downs.
Race B is also a one-make event, though you'll be using a car from your own garage for the event. It's a four-lap race using the Ferrari 458 Italia Gr.4 race car, around the unusual Autopolis circuit. Originally intended to host F1, Autopolis was supposed to be an automotive resort, but fell on hard times — though we're not sure what the F1 cars would have made of the numerous off-camber corners. Watch out for the grid start this week.
It falls to Race C to restore some normalcy this week, with an event right out of the classic GT Sport playbook. Pick a Gr.3 car, any Gr.3 car, and take it for a 13-lap race around the Brands Hatch Grand Prix circuit. There'll be some tire-related fun this week, as you'll have a choice of Medium or Hard race tires, and the Hard option is also a mandatory tire. That means you'll need to use the Hard for at least one racing lap, or face a stiff post-race penalty.
These three races will run through to Monday, September 28th, when another new set of three will replace them.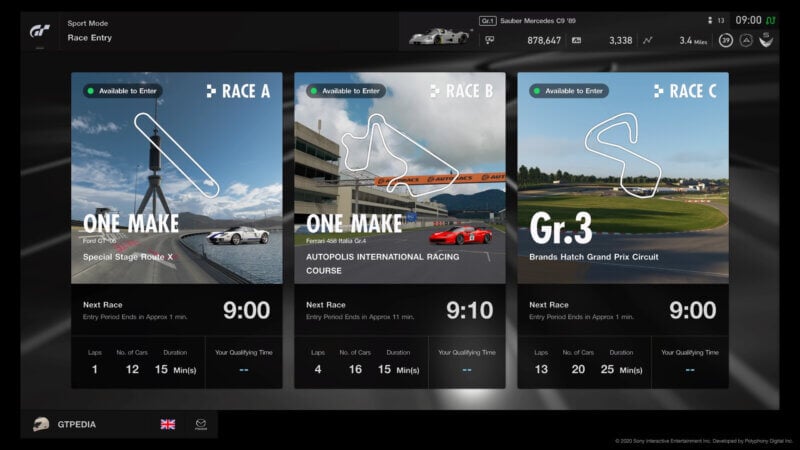 Race A
Track: Special Stage Route X, 1 lap
Car: Ford GT '06 – Provided Car
Tires: Racing Hard
Start Type: Grid Start
Fuel use: Off
Tire use: Off
Race B
Track: Autopolis International Racing Course, 4 laps
Car: Ferrari 458 Italia Gr.4 – Garage Car
Tires: Racing Hard
Start Type: Grid Start
Fuel use: Off
Tire use: Off
Race C
Track: Brands Hatch – Grand Prix Circuit, 13 laps
Car: Gr.3 – Garage Car
Tires: Racing Hard*, Racing Medium
Start Type: Rolling Start
Fuel use: 3x
Tire use: 8x
Source: Read Full Article