Forza Horizon 4 Season Change: Riders On The Winter Storm
The winds of change are starting to blow through the UK in Forza Horizon 4. A new Winter season comes amongst the reveal of the Festival's upcoming trip to Mexico in Forza Horizon 5. Those players still in the UK are continuing to search for more prizes and racking up more wins in the latest events.
New content takes a break this week, but there's a fresh opportunity to win a modified verison of a classic Ford offroader, as well as more prizes for completing 50% and 80% of the Festival Playlist.
Bucking Bronco
One car is worth noting in the seasonal completion prize pool this week, the 1970 Ford GT70.
With the GT40 dominating at Le Mans, Ford decided to build a mid-engined sports car to go rallying. The resulting GT70 ended up as a failure due to numerous mechanical and design flaws, and out of an intended homologation run of 500 units, only six were ever built; just three of those saw any action in competition. Powering the 1,680lb GT70 is a 2.0-liter four-cylinder engine, making a respectable 200hp.
A new Horizon Backstage Pass is up for grabs if you're after any cars from the Festival.
The lastest Winter Photo Challenge takes you right into the heart of Edinburgh. #ScotlandTheBrave requires a picture of your car with the Scott Monument on Princes Street. Updated prizes for seasonal championships include the Gymkhana 9 Hoonigan Ford Focus and the Pontiac Trans-Am.
This week's big prize comes in the shape of another Hoonigan machine, this time based on the old Ford Bronco. The Hoonigan team took a standard 1974 Bronco and transformed it into a hardcore offroader for Ken Block's wife, Lucy. A 5.0-liter unit from a modern Mustang replaces the older 6.4-liter V8, producing a solid 435hp. Combined with custom suspension and a lifted chassis, this Bronco loves to be driven hard over rough terrain.
If you want the Bronco, you'll need to win the "Into The Wilds" championship.
Winter also brings new Super7 challenges to the table to keep player busy. Finish all seven cards to receive the GMC Syclone.
Read on below for Winter's events and prizes;
Small Wonders
Series: Dirt Racing Series
Cars: Volkswagen
Restrictions: B Class, 700 PI
Prizes: 15,000 CR, 25,000 CR, 1967 Volkswagen Karmann Ghia
Tour de Force
Series: Road Racing Series
Cars: Modern Muscle
Restrictions: S1 Class, 900 PI
Prizes: 15,000 CR, 25,000 CR, 1973 Pontiac Firebird Trans Am SD-455
Into The Wilds
Series: Cross Country Series
Cars: Extreme Offroad
Restrictions: A Class, 800 PI
Prizes: 15,000 CR, 25,000 CR, 1974 Hoonigan Ford Bronco
The Trial: American Car-tographer (Co-Op Championship)
Series: Cross Country Series
Cars: American cars
Restrictions: A Class, 800 PI
Prizes: Hoonigan Ford Focus RS RX Gymkhana 9
Winter Games – Series 36
Series: Playground Games
Cars: Classic Muscle
Restrictions: B Class, 700 PI
Prizes: 1973 Ford XB Falcon GT
Super7 – Winter
Completion Prize: GMC Syclone
Hythe House Speed Trap
Season Objective: 195 mph
Rail Yard Ramp Danger Sign
Season Objective: 820.2 ft
Strathbridge Speed Zone
Season Objective: 140 mph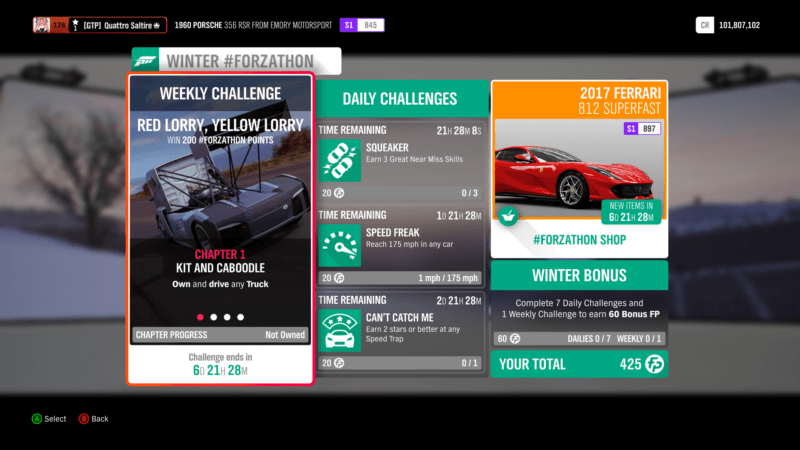 Forzathon Events
It's time to go big for the latest Forzathon, as the focus turns to Trucks. Jump into what titans are available to get started.
Next up, show why your truck is king of the road by earning a total of 10 Trading Paint skills. After that, test the durability of your monster by racking up 10 Wreckage Skills.
Finally, put on your trucker hat and prepare for a long drive, as you'll need to win a Road Racing Series event at the fearsome Goliath.
Forzathon Shop
This week's lineup is all about speed, and no car comes with a faster name than the Ferrari 812 Superfast.
The replacement for the F12 sticks to the sporting grand tourer formula, but turns the performance up a level. Ferrari increased the capacity of the V12 to 6.5 liters and power goes up to 789hp — making the 812 the most powerful, non-hybrid, naturally aspirated car in the world.
If that sounds like your sort of thing, the 812 will set you back 600 Forzathon Points, and in return you'll get potentially one of the last great pure V12 Ferrari GTs.
For those who want even more power, there's the Bugatti Divo. Many may think the Divo is simply a Chiron in a new suit, but there are deeper changes under the skin.
The new body helps to cut weight by 77lb and also brings big downforce gains over a standard Chiron. Bugatti has also recalibrated the suspension to generate improved handling, while the Chiron's 8.0-liter, quad-turbocharged W16 remains untouched, meaning there's still 1,479hp to play with.
At 300 FP, the Divo is remarkably cheap, and it'll get you more attention at a car meet than you would in a regular Chiron.
Clothing available to purchase include the Quack and Shark Wellies.
Feature image courtesy of taz
Source: Read Full Article